The 15th anniversary of Israel's withdrawal from Gaza was accompanied by a wave of painful, personal and political memories amid a difficult debate over the wisdom of Ariel Sharon's sudden political shift, writes Gerald M. Steinberg, Professor Emeritus of Political Science at Bar -Ilan University and president of the Department of NGO Research in the newspaper Jerusalem Post.
The latest round of explosive balloon attacks from Gaza that burn agricultural land and trees in southern Israel and rounds of rocket attacks that send thousands of Israelis into shelters in the middle of the night reminds us that Israelis' hope for peace is a illusion, writes Steinberg. Read MIFF's articles on rocket attacks from Gaza against southern Israel here.
Instead of using Israel's withdrawal from Gaza as an opportunity for economic development and lifting the people of Gaza out of poverty, Palestinian leaders have diverted international aid to cross-border attack tunnels and rocket brigades.
According to Steinberg, the EU's role in the process largely forgotten in historical perspective, as is the EU's failure to provide the guarantees it promised to fulfill in 2005. Read MIFF's articles on how Danish aid to the Palestinians is being misused for terrorist attacks against Israelis here.
Following Israel's withdrawal, EUBAM (European Union Border Assistance Mission) was deployed to the Rafah crossing between Gaza and Egypt. The deployment consisted of about 60 police and customs officials who were to "help create peace in the area", apparently by monitoring the traffic and thus stopping arms smuggling into Gaza. Read MIFF's articles on arms smuggling into Gaza here.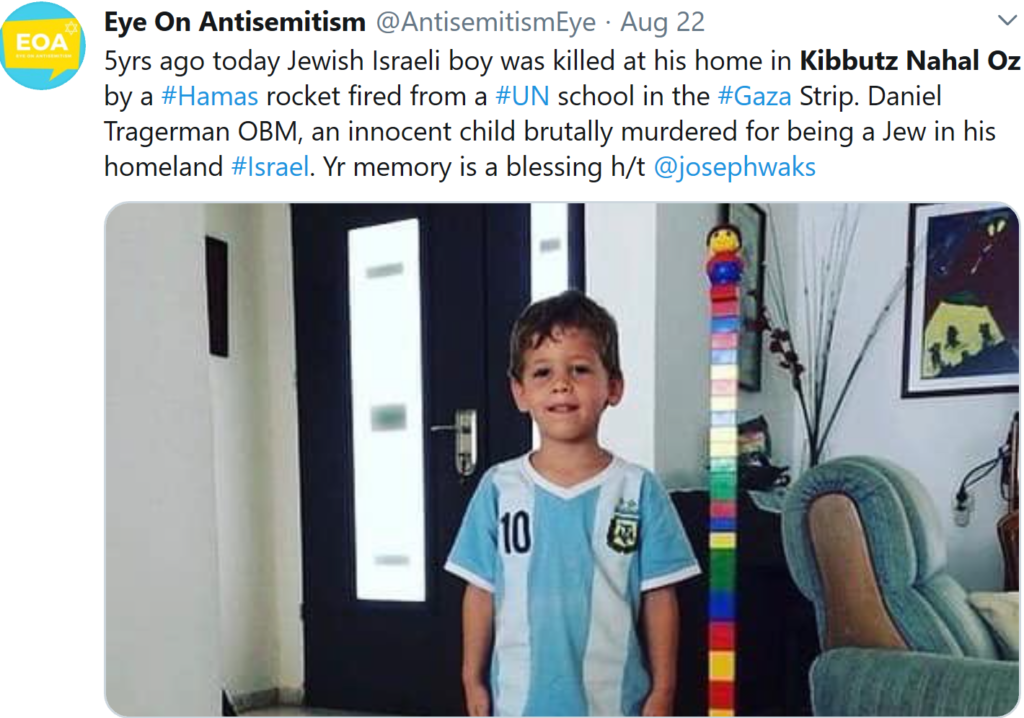 Under the agreement between Israel and the Palestinian Authority (PA), EUBAM would monitor the PA's performance in operating the crossing and had the authority to order a re-examination of persons and goods passing the crossing if the PA's investigations showed to be unsatisfactory.
From the outset, EU surveillance was a failure and failed to show Europe's potential contribution to peace at all, instead demonstrating the gap between political talk and reality on earth with conflict and terror
Arms smuggling into Gaza continued – on December 30, 2005, a few weeks after their first deployment, EUBAM monitors fled the Rafah crossing for security in an Israeli military base, after Palestinian police officers stormed the crossing into what was in the media and diplomatic was described as a "protest demonstration".
Three months later, EU monitors again fled after kidnapping waves of foreigners in Gaza.
EUBAM monitors returned, but without any real surveillance, and when the attacks from Gaza after Israel's withdrawal escalated, EU monitors were merely spectators. In June 2006, a tunnel attack from Gaza into Israel, not far from EUBAM's post, resulted in the killing of two Israeli soldiers and the kidnapping of Israeli soldier Gilad Schalit by the terrorist group Hamas. Read MIFF's articles on this.
When Israel responded, the EU automatically condemned the "disproportionate use of force" and "the humanitarian crisis it had exacerbated." Read MIFF's articles on Gaza here.
The following year, in 2007, forces from the terrorist group Hamas took over Gaza with great violence and power – several Palestinians loyal to Fatah were killed, EUBAM then left the Rafah crossing forever, Steinberg writes.
< With the departure of EUBAM, the Rafah crossing with Egypt was to close in accordance with the terms of the withdrawal agreement – which was also reiterated by the EU spokesman. But after the terrorist group Hamas took power in Gaza, nothing changed and thus the limited deterrence against arms smuggling into Gaza, terrorism and maintaining security also disappeared.
In European political folklore, EUBAM's failure is due – like everything else associated with the Palestinians, Israel, Steinberg writes.
Academician Benedetta Voltolini, considered an expert on EU policy, wrote that the mission "suffered from the restrictions imposed by Israel, which prevented the EU from [carrying out] its work". According to Steinberg, Voltolini deleted evidence and cited two political NGOs without security information and funded by the EU (Gisha and Physicians for Human Rights Israel).
In reality, the EU wanted credit for having an active role, but the EU did not want to take on the responsibilities that come with it. EUBAM monitors moved to a hotel in the Israeli city of Ashkelon and then to an office in the Israeli city of Ramat Gan, where they are in theory still on standby here 13 years later. EUBAM "maintains readiness to be relocated at the Rafah crossing when the political and security situation allows it at short notice."
You can still find EUBAM's website and logo on the Internet. Today, EUBAM holds workshops on topics such as "Addressing the needs of disabled passengers" – a worthy cause, Steinberg writes, but far from the minimal contribution to stopping terrorism and maintaining security that the EU was entrusted with in 2005. Meanwhile, European taxpayers provide two million euros to EUBAM a year – in case EUBAM's services should benefit at some point …
– This story is part of the EU's legacy and must be remembered when officials like Josep Borrell, EU Vice President in charge for foreign policy (he replaced Frederica Mogherini) teaches the Israelis how to create peace and help the people of Gaza. After failing and running away from the minimal task that the EU undertook, a certain amount of European humility and self-reflection seems appropriate, Steinberg concludes.