Ypeph Haddad is an Arab-Israeli, he is the CEO of the NGO Together – Vouch for each Other – read more about them HERE. The NGO aims to build a bridge between the Arab sector in Israeli society and Israeli society as a whole.
– Last week I woke up one morning in my home in Nazareth and discovered to my amazement that I was alive under a racist apartheid regime that will "promote and perpetuate the superiority of a group of people – the Jews." I rubbed my eyes, read the news again and calmed down after realizing that it was based on another report from the left-wing Israeli NGO B'Tselem, writes Arab-Israeli Yoseph Haddad in the newspaper Israel Hayom.
Haddad emphasizes that the report, which is pure propaganda, is a problem because it is spread all over the world – also to Denmark and the propaganda is effective.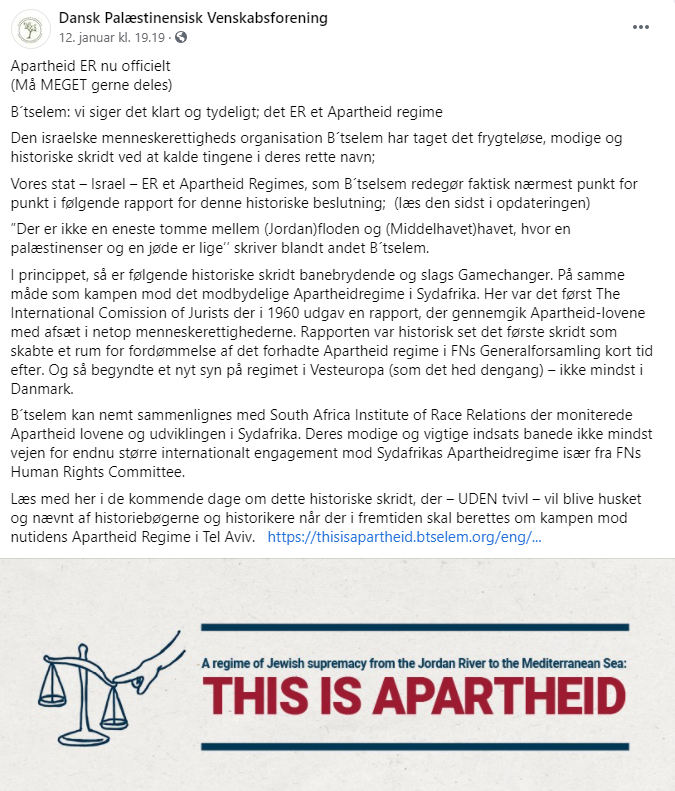 B'Tselem presents itself as a human rights organization, in fact it is an organization with a clear political agenda which is contrary to Israel's position. And people obviously have no boundaries, Haddad adds.
How Haddad writes:
How can they say that I, an Arab-Israeli who served in the Israeli defense (IDF) together with Jewish soldiers and has led hundreds of Jewish employees, living in an apartheid state? How can they say that there are some in our society who live in an apartheid state when we are doctors, judges and even legislators? How can you say that Samer Haj-Yehia lives in an apartheid state when he heads the largest bank in Israel? B'Tselem has already reached the pinnacle of hypocrisy, but comparing Israel to an apartheid state with its racial laws is not only a distorted lie – it is also an insult to all the South Africans who lived under apartheid in South Africa. It is contempt for the pre- and cynical use of the concept.
I am not saying that everything in Israel is perfect. Some things can get better. But show me a country where everything is perfect. I look at our neighbors in the region and thank G_d for being born in the state of Israel – the only democracy in the Middle East. It is true that the Arab minority in Israel faces challenges, as do other national minorities in other countries.
All minorities in the Middle East – Shia Muslims, Sunni Muslims, Yazidis, Kurds and of course Christians are persecuted, the state of Israel is the only country that gives ALL its minorities equal rights and the ability to influence their future.
When B'Tselem's director Hagai El-Ad, who is Jewish, decides that I, my Arab family and my Arab friends live in an apartheid state, he says with his organization that they see us as second-class citizens. B'Tselem, do not advance your agenda at our expense!
To my delight, Israel will probably be the first country to emerge from the Corona crisis, and in a few months, people from all over the world come here and see for yourself what apartheid looks like in Israel. They will be able to hear Hebrew and Arabic spoken in the Nazareth marketplace, they will see mosques, churches and synagogues side by side in Jaffa and see the coexistence of the Israeli mosaic across the country. And maybe, just maybe, their visit here will make them wish they lived under an apartheid regime too.
Denmark important B'tselem donor
The internationally recognized research institute NGO Monitor has uncovered where B'tselem gets their funds from
. Denmark is among their most important donor countries – read the report HERE. Read also: In 2019, B'tselem had an income of about 20 million.
By supporting B'tselem financially, Denmark ignores the organization's agenda to blacken Israel in the international media arena and spread anti-Israel propaganda that has no basis in reality. Denmark should stop supporting B'tselem and demand that they base their reports on valid information rather than false apartheid accusations.
Also read: See how the Palestinian Authority's (PA) false accusation of "medical apartheid" against Israel is spreading – Denmark sends several million annually. Danish tax kroner to PA without making demands on how the money is used.
​​ If you also think it's time to look at Danish aid to organizations in the seams, sign up in Infinitum News today
Click HERE to join – thank you for your support!