Over a quarter of a million households in Israel have fallen below the poverty line since the outbreak of the Corona crisis. This corresponds to an increase of almost 50 percent, shows a report published by the organization Latet (To give) – read more about the organization HERE in English. The proportion of households living in poverty has risen from 20.1 percent to 29.3 percent, writes the Times of Israel.
Behind the figures, it appears that members of 850,000 households in Israel lack adequate housing, education, health care and adequate food, with 268,000 households falling below the poverty line since the Corona crisis broke out earlier this year. Today, almost one million Israelis are unemployed or fired without pay. The Corona crisis has meant that many have lost their jobs. Read MIFF's articles on the economic crisis in Israel HERE. Read MIFF's articles on the Corona crisis in Israel HERE.
The Latet organization helps fight poverty, food insecurity and helps 70,000 needy families through a network of charities. They estimate that around 143,000 families have joined the 513,000 families already suffering from food insecurity before the crisis, with 34,000 of the new families experiencing a severe degree of food insecurity. Read MIFF's previous article on organizations like Latet HERE.
Food insecurity means an insecure or limited approach to nutritionally adequate and safe food, or that the ability to acquire acceptable food in socially and culturally acceptable ways is limited or insecure. While it can lead to malnutrition, it is not the same. It is actually one of the main causes of obesity and is closely linked to lifestyle diseases and increased risk of a severe Corona course, as obesity is one of the risk factors in Corona infection.
Restaurants, grocers, supermarkets and markets in Israel are experiencing an increase in the theft of basic foods such as bread and milk. The owners do not choose to report the thefts to the police and there are even shop owners, customers and security guards who choose to pay for the food that is stolen.
See also MIFF's Instagram post ten weeks ago from an Israeli supermarket, the sign says: – If you need food but do not have money to pay in these difficult times, go without paying. You do not need to inform the staff.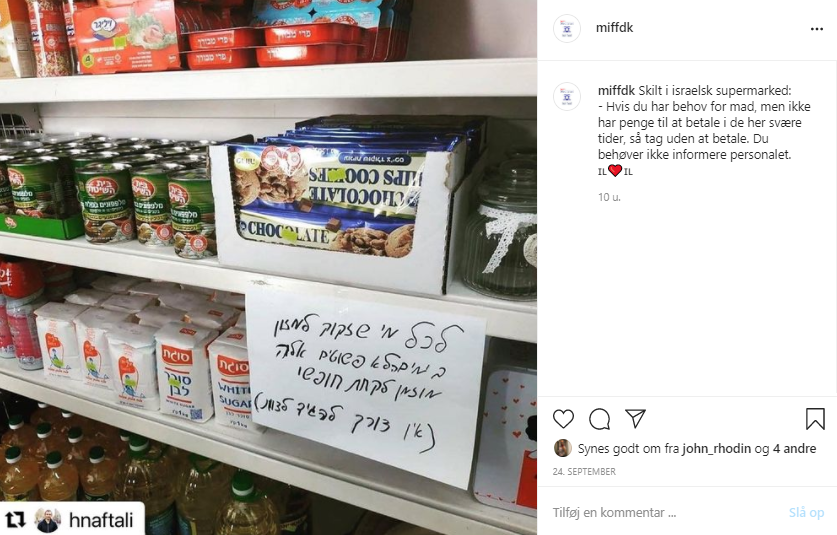 The Latvian report also shows that in the context of the Corona crisis, around 422,000 households, representing 14.5% of the country, have joined the 699,000 households (24.1%) already suffering from some form of economic hardship. distress.
Gilles Darmon, president and founder of Latet, says this year's report is without a doubt the worst since they started researching poverty in Israel 15 years ago.