In an interview, Qadri Abu Bakr, director of the Commission of Prisoners and Released Prisoners' Affairs (funded by the Palestinian Authority (PA)), who receives the money from their international assistance, which is also funded by Danish tax dollars, revealed. Read / see the full interview via Palestinian Media Watch here.
In other words, the Danish taxpayers also help to finance the PA – read MIFF's articles on Danish aid to the Palestinians here). During the interview, Qadri Abu Bakr made three absolutely incredible statements that are relevant to PA's foreign donors – including Denmark. The revelations clearly show what the PA prioritises using the foreign aid for and what the foreign donors, including Denmark, are helping to finance.
Also read MIFF's article: UN to the world community: – Ignore PA's terrorist financing and send more money.
After Palestinian Media Watch revealed PA payroll payments to convicted terrorists with Israeli lives on their conscience, several countries began earmarking their disbursement of PA aid funds for specific purposes – such as disbursement of salaries to officials. But it does NOT stop the abuse of your tax dollars – Abu Bakr said during the interview that the PA's new plan to deceive the donor countries is the recruitment of released terrorists that the PA "hires" to do nothing. That way, the convicted terrorists apparently "work" in legitimate PA positions and the PA can continue to deceive the world into funding their absurd pay-for-terror program. Even more absurd is that the PA wants released terrorists in positions in the PA's security forces – the very same forces that are tasked with fighting terror!
During the interview, Abu Bakr said that there are 7,000 – 8,000 released terrorists who receive a monthly salary from the PA for NOT doing anything.
"A prisoner is released from prison and gets paid without working and without doing anything… We have 7,000-8,000 released prisoners who are paid that way."

[PLO Commission of Prisoners' Affairs FACEBOOK PAGE, September 7, 2020]
Abu Bakr admitted during the interview that despite the deep economic crisis that the PA has embarked on and their appeal to the world for help in dealing with the Corona crisis, the PA continues to pay salaries to terrorists. He even put his own job at stake if the terror pay could not continue to be paid:
"I would resign if payments could not continue"
Abu Bakr also explained some of the other benefits that PA provides to free-spirited terrorists – such as college education, vocational training and even free dentistry.
"Any prisoner released after one year is eligible to study at the university, this includes carpentry, metalworking and the like. Any profession that we can cover for him. We also cover dental treatment of up to 5,000 [Israeli] shekels (equivalent to about 10,000 kroner). We cover implants. "
The PA's Act on Prisoners and Released Prison Matters of 2004 guarantees terrorists – both those in prison and those released from prison, a fixed monthly salary and many other benefits.
PA Government Resolution No. 15 of 2013, as amended in 2015, adopted the "Regulation on Securing Jobs for Released Prisoners", which codifies both the payment of salaries to released terrorists and the other benefits to which they are entitled.

According to section 8 (1) of the Regulation. 1:
"A released male prisoner who has been in prison for 10 years or more and a released female prisoner who has been in prison for 5 years or more will be employed with pay in the state institutions, according to the table attached to the regulation. "
Despite the fact that the provision could indicate that the released terrorists – men who have spent 10 years in prison and women who have spent 5 years in prison – actually receive a salary for being employed, Article 8 para. 3:
"Any released prisoner employed on pay under this clause is required to comply with official decisions of state institutions. and show up for work, if asked . "
That is, released terrorists who meet the criteria are not actually employed by the PA. Instead, they simply receive pay for a position where they are only required to attend if specifically asked to do so. According to Abu Bakr, there are between 7,000 – 8,000 released terrorists who are "employed on payroll" but sit and do nothing.
The salary table below (referred to in section 8 (1)) attached to the Regulation sets the salary of released terrorists according to the salary scale for non-terrorists, law-abiding, honest and senior officials. According to the salary scale, terrorists released after 10 years in prison receive a starting salary equivalent to that earned by an A-class leader or a lieutenant colonel – solely by virtue of being released terrorists!

PA's latest "solution" to the problem is of great concern
The fact that the PA pays significant salaries to terrorists who are simply sitting at home is in itself a cause for great concern. The PA's new initiative to "solve" the problem is even more worrying. I interview, Abu Bakr explained that PA chairman and president of the autonomous territories, Mahmoud Abbas, recently approved a policy change to recruit the terrorists to PA security forces!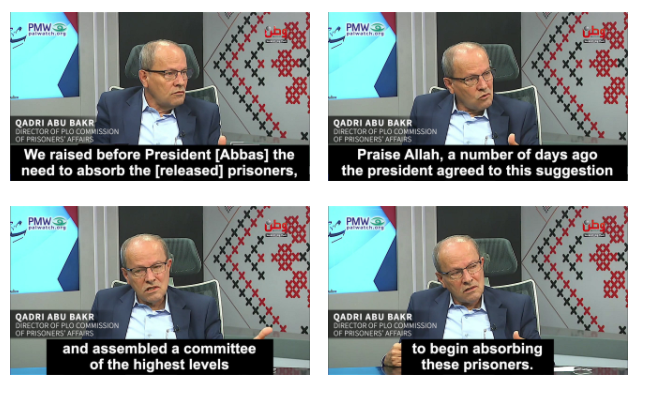 Abu Bakr: "A prisoner is released from prison and receives a salary as a RELEASED Prisoner without working and without doing anything. We raised the need for President [Abbas] to absorb the [released] prisoners so that no one will feel that he is at a high level and sitting [vacant]. We have educated [released prisoners] – matriculation exam, BA, MA and Ph.D. Why should we not absorb them in the PA institutions? Thanks to Allah, a few days ago the President accepted the proposal and convened a highest level committee headed by Prime Minister Muhammad Shtayyeh to start absorbing the prisoners. We have 7,000-8,000 released prisoners receiving a salary like this. It is also exploited against us in Europe, the United States and Israel – that they receive a salary because they have murdered and done this and that… "…

Ma'an host:" They will be admitted to positions? "

Abu Bakr:" In Security Positions – [PA] Security Forces or in Government Ministries, PA Institutions and Authorities. "

[PLO Commission of Prisoners' Affairs, FACEBOOK PAGE 7 September 2020]
Your tax dollars go to terrorist organizations with Israeli lives on their conscience
It's clear that in the PA world, where terrorists get a hefty cash reward just for being terrorists – this also applies to murderers and mass murderers and other members of internationally designated terrorist organizations such as the terrorist group Hamas which controls Gaza and has fired thousands of rockets into Israel and does not recognize Israel's right to exist – read MIFF's articles on the terrorist group here, the Palestinian Islamic Jihad terrorist group – read the MIFF's articles on here and the terrorist group Popular Front for the Liberation of Palestine (PFLP) – read MIFF's articles about the terrorist group here. In the PA's view, it is perfectly ok to recruit convicted terrorists who have been convicted for the full range of terrorist offenses, to the PA's security apparatus which has been put in the world to fight terrorism – can it become more absurd?
Financial crisis and Corona crisis – no obstacle to the payment of salaries to terrorists
In the last few months, PA's income has fallen, both as a result of the Corona crisis and as a result of PA's decision to suspend all cooperation with Israel, including the PA's NO to receiving hundreds of millions of shekels from Israel, which Israel has charged on behalf of the PA in Tax every single month – read MIFF's articles on this. To cover the lack of income, the PA has asked the world to increase their donations to them. While many countries – predominantly EU countries have happily opened the coffers and dug even deeper into it, the PA without scruples continues to spend very large sums on maintaining their policy of rewarding convicted terrorists, many of whom have more innocent lives on the conscience. Where is the EU's moral compass really when they happily reward terrorists with even more money? Why do the EU and the donor countries – including Denmark – not review all payments to PA with a comb before payment? Why does it not have financial consequences for PA that they do not stop paying wages for terror from Danish taxpayers?
PA Government Decision No. 23 of 2010, "Concerning the Regulation of the Payment of the Monthly Salary to Prisoners", codifies both the step of the salary of terrorist prisoners and other benefits to which they are entitled.
The pay scale starts at 1,400 shekels (equivalent to about 3,000 kroner) per month and increases depending on how long the terrorist has been in prison to 12,000 shekels (equivalent to about 24,000 kroner) per month. It's good business to be a convicted terrorist with PA and your tax dollars are med to fund it!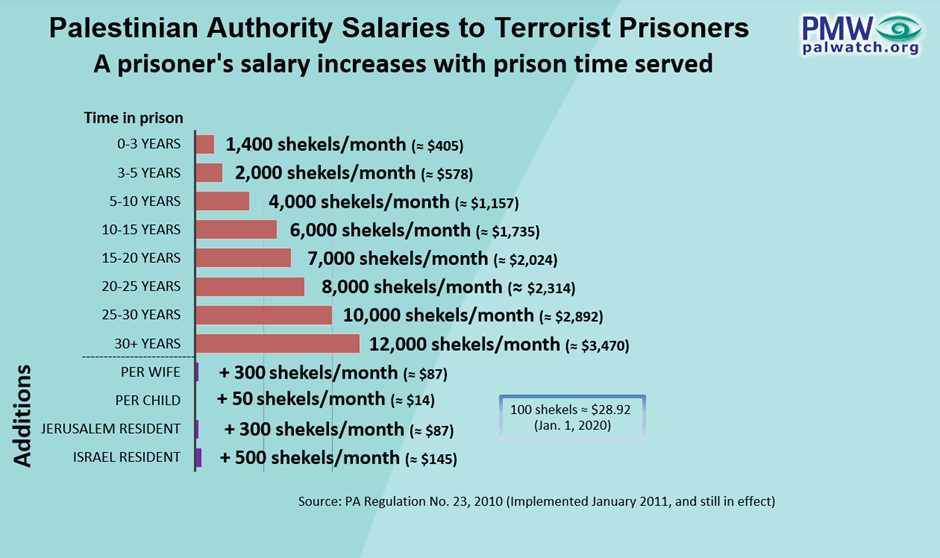 Read the full interview in English here at Palestinian Media Watch.
Share the article, leave a comment below
Sign in Infinitum News – help us stop wages for terror financed by Danish taxpayers!
Click here to become a member and at the same time get FREE membership for the rest of the year when paying for 2021 now
Click here to give Infinitum News a gift
Thank you very much for your support! <