Israel's Minister of Strategic Affairs Orit Farkash-Hacohen from the Kahol Lavan party came earlier this month with strong criticism after the organization Samidoun had held events in several European cities and North America. Samidoun has close ties with the terrorist organization Popular Front for the Liberation of Palestine (PFLP), which is also on the EU's list of terrorist organizations. Read MIFF's articles on how Danish aid to the Palestinians indirectly contributes to financing the PFLP and other terrorist organizations' terrorist attacks on Israelis here.
Samidoun's solidarity network for Palestinian prisoners based in Canada, held meetings on 7-9 August in Copenhagen, Gothenburg, Manchester, London, New York and Vancouver. Writes the newspaper Jerusalem Post.
Here is an invitation to the event on August 9 in Copenhagen – samidoun.net, organized by the International Forum Middle East Group: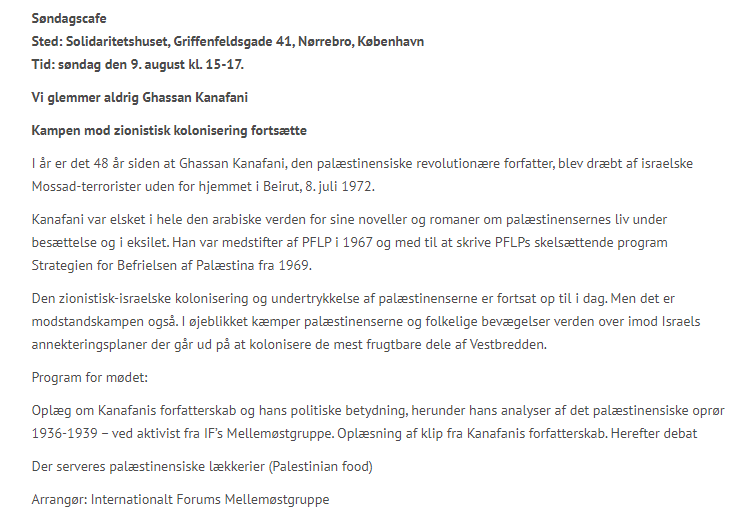 PFLP terrorist hailed in Copenhagen
Samidoun organized international meetings to mark the 48th anniversary of Ghassan Kanafani's death. Kanafani was a spokesman for the terrorist organization PFLP. He was killed by Mossad after the PFLP's involvement in the massacre at Israel's airport in 1972. The massacre cost 26 lives and injured 86 people – read more here. Also read DanChurchAid's glorifying article about Kanafani who was married to a Danish woman.
Danish aid to finance PA's glorification of PFLP terrorists against children
It must be emphasized that the Palestinian Authority (PA), which receives several million every year. kroner in Danish aid, in 2017 arranged summer camp for Palestinian children with training in attacking Israelis, glorification of Ghassan Kanafani (PFLP terrorist leader), Dalal Mughrabi (was behind terrorist attacks in which 37 Israelis were killed, 12 of them children), Khalil Al- Wazir (behind terrorist attacks in which 125 Israelis were killed), Laila Khaled (PFLP terrorist and hijacker) and Yasser Arafat, according to Palestinian Media Watch (PMW) – read more here. Read MIFF's articles on Danish aid to the Palestinians here.
Samidoun with close links to the PFLP holds regular meetings in Denmark
According to NGO Monitor, Samidoun does not disclose where they get their financial resources from and is not registered as an official legal entity in the US, Europe or Canada. According to information on their website, the solidarity network of their Palestinian prisoners is a grassroots movement that does not receive funding and they encourage people to support them financially.
According to NGO Monitor, Samidoun participated in 2018 in several events in Denmark which were co-organized by Boycott Israel. During the events, the PFLP flag was flown. The purpose of the events was: "highlighting Palestinian prisoners and the struggle for liberation". Samidoun coordinator Khaled Barakat stressed "the need for more action to boycott Israel. Israel is a racist and colonialist state doomed to be dissolved. I believe that at some point Israel will become a burden for imperialism, as we have seen happen elsewhere in the world – for example in South Africa. " Charlotte Kates, Samidoun's International Coordinator, also called for a boycott of Israeli academic institutions, including studies abroad, in protest of violations of Palestinians' right to education.. "
Samidoun's close ties to the terrorist organization PFLP are unmistakable – for example, Khaled Barakat is a central committee member of the PFLP. In July, Barakat hosted a Samidoun webinar on "Palestine and the Arab and International Boycott Movement (BDS)."
Barakat is married to Samidoun's international coordinator, Charlotte Kates, and is also campaigning for the release of PFLP Secretary-General Ahmad Sa'adat, who was convicted by an Israeli military court for his involvement in a terrorist attack and the assassination of Israeli Tourism Minister Rehavam. Ze'evi – Read more at NGO Monitor here.
Farkash-Hacohen condemned the meetings due to Samidoun's close ties with the PFLP and their staff – including Samidoun activists who are also PFLP members, some of whom have been imprisoned in Israel for terrorist offenses.
– It is inconceivable that a terrorist organization such as the PFLP will be received with open arms in major cities around the world under the guise of being an NGO, says Farkash-Hacohen.
The Ministry of Strategic Affairs has brought foreign officials to the attention of the meetings and Samidoun and contacted the Ministry of Foreign Affairs, which has informed Israeli embassies in the relevant cities.
MIFF's comments
It is completely unacceptable that Denmark has for several years sent several million kroner to the Palestinian Authority (PA) without ensuring that Danish tax dollars are neither directly nor indirectly used for terrorist attacks against Israelis. Infinitum News has written several times that Danish aid is used by the PA to reward terrorists with Israeli lives on the conscience – this also applies to PFLP terrorists. Read MIFF's articles on this.
Ghassan Kanafi was a very central figure in the terrorist organization PFLP – yet the Danish authorities do not question the holding of meetings in Denmark where terrorists like Kanafani are glorified and praised. Kanafani has a lot of life on its conscience and therefore it is very worrying that Danish decision-makers do not put a stop to organizations being able to use Denmark freely as a platform to spread hatred and call for terrorism against Israelis and a boycott of Israel.
International Forum openly supports the PFLP – they also hold events where the profits go uncut to Palestinian prisoners – see more here.