The European Initiative for the Rights of Palestinian Prisoners (EIRPP) writes on its website that they work for:

"The European Initiative for the Rights of Palestinian Prisoners aims to support Palestinian prisoners detained or imprisoned in Israeli prisons legitimate rights, and expose the inhuman violations practiced by Israeli occupation authorities against Palestinians detained or imprisoned. "

In April 2020, the EIRPP broadcast a Facebook broadcast in Denmark – the theme was demands for Israel to release Palestinian prisoners claiming to be infected with Corona in prisons. Read the Unity List's support for the case here.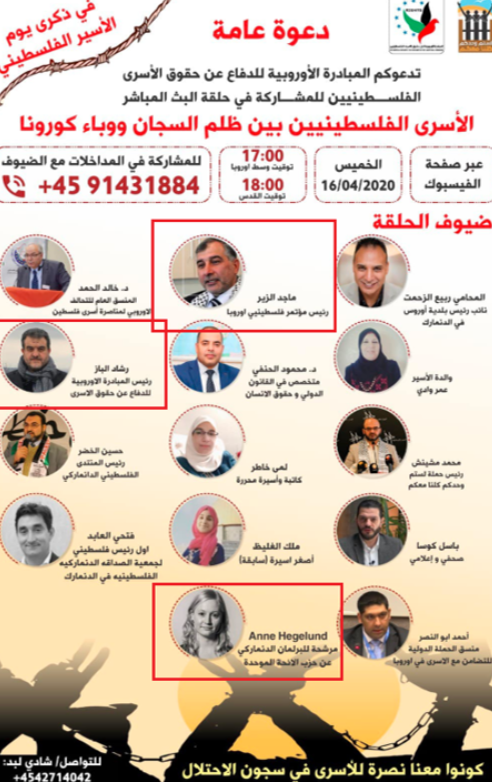 Participated in EIRPP's Facebook broadcast:

Rashed El Baz , according to MIFF's information, he is former secretary of the Al Aqsa Foundation which is on the terrorist list in the United States. In 2003, Dutch authorities withheld the organization's funds on suspicion of being channeled to the terrorist organization Hamas. According to NGO Monitor, the organization in several European countries has transferred donations to terrorist organizations. The organization Stand for Peace also suspects El Baz of having personal contacts with the organization Hofstad Network, which in 2004 was behind the murder of the Dutch film producer Theo Van Goch. Today, El Baz heads the EIRPP.

Majed Alzeer , according to MIFF, he is a prominent figure in Palestinian society in Europe, especially with the part that has links to Hamas networks in Europe. He is also president of the Conference of Palestinians in Europe, which in 2019 held a conference in Denmark. Infinitum News covered the conference where, among others, Pernille Skipper from the Unity List (EL), Mogens Lykketoft from the Social Democrats (S) and Caroline Magdalene Maier from the Alternative (ALT) participated, closely. Read MIFF's article: THE SHOCK MOVIE: In Copenhagen, thousands were encouraged in the dream that the Israelis will die . Alzeer is chairman of the Palestinian Return Center (PRC), according to NGO Monitor, the PRC does not publish their economic figures. The PRC receives donations from private individuals and has connections to Hamas. The PRC also works actively for the Palestinians' right to return to Israel – read MIFF's article here.

Rabih Azad-Ahmad , a Palestinian resident of Lebanon (1976). He lost his brother during the Lebanon war in 1982 with Israel. Today he sits on Aarhus City Council as councilor for culture and citizen service for the party Radikale Venstre (RV). Read the MIFF's article on the party's anti-Israel policy here.
Fathi El-Abed is a Palestinian resident born in Lebanon (1967). He is chairman of the Danish-Palestinian Friendship Association. According to NGO Monitor, the association does not disclose its financial figures. However, the association has stated that they receive funding from Denmark (Danida) and the Palestinian Agricultural Relief Committee to plant fruit trees and promote democracy. In 2009-2011, they received DKK 4.7 million. kroner from Danida for the project "A Democratic and Fruitful Palestine." According to NGO Monitor, the association spreads anti-Israeli propaganda, compares Israel with the Apartheid regime in South Africa and supports a boycott of Israel (BDS).

Anne Hegelund works as a consultant for Aarhus municipality. She ran in the parliamentary elections for EL in 2019 but was not elected. She openly supports the EIRPP.

Watch the entire broadcast here (Anne Hegelund speaks at -18: 23):


Anne Hegelunds opslag til støtte for EIRPP: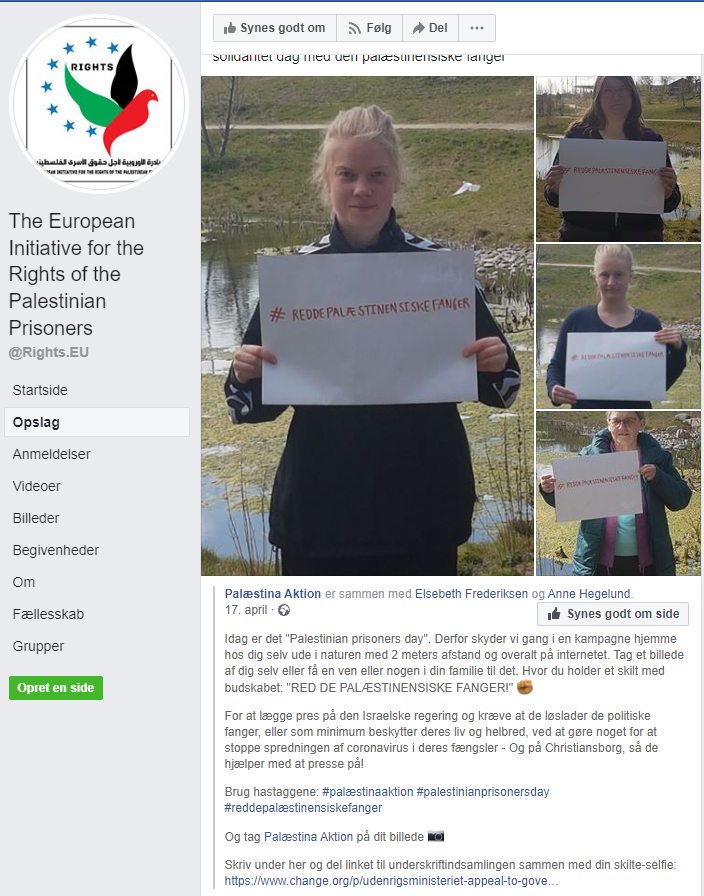 Enhedslistens støtte til EIRPP (folketingsmedlem Christian Juhl):
Læs Enhedslistens opfordring til at støtte EIRPP her og Enhedslistens brev til Israels ambassadør i Danmark (april 2020):

Danske politikere har et skærpet ansvar for at vide hvad de lægger navn til – i særdeleshed når der er tale om arrangementer som ikke foregår på dansk. Ved den palæstinensiske konference afholdt sidste år med deltagelse af Pernille Skipper (EL), Mogens Lykketoft (S) og Caroline Magdalene Maier (ALT) var agendaen at fjerne Israel fra landkortet – alligevel stillede danske politikere villigt op – hør Pernille Skippers tale under konferencen her.

Enhedslisten støtter også EIRPP åbent uden at undersøge deres agenda nærmere. Ved Facebook-udsendelsen deltog flere personer hvis bevæggrunde for at engagere sig i sagen mildest talt er tvivlsomme. Derfor er Infinitum News yderst bekymret over at vores folkevalgte politikere velvilligt stiller op til den slags arrangementer. Derfor mener Infinitum News også at danskerne har krav på at vide hvad vores politikere støtter.


Din stemme betyder mere end du tror – hvis du også er imod den anti-israelske propaganda som Enhedslisten lægger navn til så meld dig ind i Infinitum News nu – hjælp Infinitum News med at fortsætte informationsarbejdet til gavn for Israel og det jødiske folk.
Klik her for at blive medlem.