Already in April 2020, Infinitum News could tell that Federal Customer Kurz, had taken the initiative to form a corona alliance between the small countries that had handled the corona crisis sensibly, read MIFFR Article here
– It is a really good company for Denmark to be invited with in. And important – not least on the longer court. It is some of the countries that have very quickly and effectively responded to the Corona crisis, said the prime minister in 2020.
The Prime Minister travels tomorrow to Israel along with Austrian Federal Chancellor, to meet with Prime Minister Benjamin Netanyahu and discuss A closer Corona collaboration between countries, writes the newspaper Jyllands-Posten.
In connection with its forthcoming travel to Israel, the Prime Minister offered to purchase any excess vaccines.
– All countries that have vaccines that cannot use their vaccines, either because they do not reach rolling, as we do, or for other reasons, we want them, the prime minister has stated to Ritzau.

MIFF has in line with the Corona crisis, documented how media, organizations and politicians spread anti-Israelk propaganda. Here are some examples:
On January 7: False Corona accusations against Israel have crowned days. Danish and international media spreads false news that Israel prevents the Palestinians from being vaccinated against Corona.
On January 8: Amnesty International's Corona-Hetz against Israel. Amnesty International Do their for spreading Corona lies aimed at Israel.
On January 11: Berlingske and TV2 jumps on blood collectors against Israel. Classic examples of Fake News in Danish media.
On January 14: See how passport the "Medical Apartheid" goes. The Palestinian authorities (PA) promised the Palestinians that they would arrange for Corona vaccines. Now it turns out that can't keep it promise, therefore accuses the Israel for "Medical Apartheid".
February 2: Danish Media coverage of Israel's vaccine insert drawing motley image. MIFF reviews selected articles.
On February 18: Infinitum News gives Israel's ViceAmbassador word denied by Politiken. MIFF brings Israel's ViceAmbassador, Davy Antebis response to raw anti-Israeli propaganda in Politiken
On February 24: Dagbladet Information recycles thin-wired indictment about 'medical apartheid' against Israel. No matter how many times Danish media repeats a lie, it will not be true – this also applies to the newspaper information thinly and false indictment about 'medical apartheid'.
On March 1: Politiken again demonizes Israel without fact check. – Politiken continues its evil campaign against Israel's successful vaccine rollout. The newspaper shows poor journalism and judgment: No Israeli official was asked to answer the groundless charges against Israel, and no official Israeli spokesman is quoted on the content of today's article!, Writes Israel's Ambassador, Benny Dagan on Facebook.
March 2: The Unity Listen's Corona rapporteur jumps on groundless vaccine charges against Israel. Peder Hvelplund does not control facts about Israel's vaccine program.
Prior to the Prime Minister's visit to Israel, among other things, the Left and Danish Palestinian Friendship Association (DPV) have screwed even more up for their anti-Israeli propaganda. Here are some examples:
Karsten Høby (Parliamentary member for SF), March 2, Facebook:
Margrete Auken (Europe parliamentarian for SF) 2
. March, Facebook:
See also Aukens Basless accusations against Israel about medical apartheid January 11 here.
Mai Villadsen (current chair of unit list), March 2, Facebook:
Pernille Skipper (former chairman of the unit list) March 2, Facebook: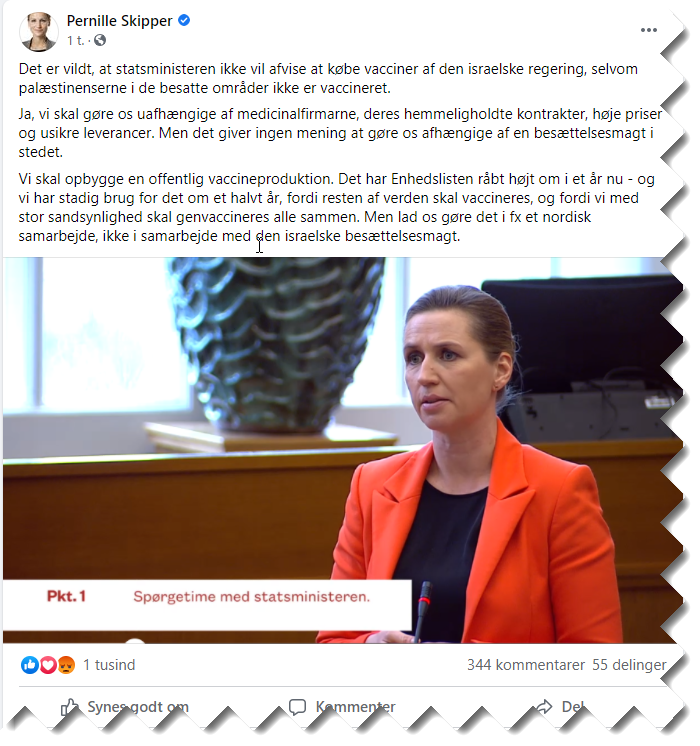 Danish Palestinian Friendship Association (DPV), March 2, Facebook:
DPV, March 2, Facebook:
DPV, March 1, Facebook:
DPV, February 28, Facebook:
scandal to elected politicians, media, organizations and other non-factors!
Left, DPV, Danish media and others ought to factory check before they pronounce. They simply lack basic knowledge about the facts in Israel! They all have a sharpened responsibility for conveying fact-based, valid and balanced information to their followers. Get a quick overview of Israel's history here.
The truth is to pa won't have Israel's help
The Palestinian authorities (PA) would not talk With Israel when they ordered Corona vaccines, either would not coordinate the complex deployment of the vaccine program with Israel. Read more – including passports meet in 2020-2021 with WHO, UNICEF and others about the purchase of vaccines here. Last summer, the Emirates sent twice several tons of corona emergency aid to the Palestinians in collaboration with Israel. Pa refused to receive the help – read more here. Israel has several times offered to help with their corona handling, PA said no. If you have heard in Danish media?
Israel is not a occupying power !
the universal rule for determining limits of new states, UTI Possetis Juris Dictates that they are established with the administrative limits of the previous administrative authority. Prior to Israel, the mandate of Palestine was created by Nations League and managed by the UK. As the only state that came out of the mandate in 1948, the international law dictates that Israel inherited the administrative g of the mandate
bers. This principle determines that the area in question has been under Israeli sovereignty since the state's independence, it also applied under Jordan's occupation of territory between 1948 and 1967. While the territory is politically disputed, the legal principle is completely clear when it comes to the West Bank (Judea and Samaria) . Israel has not occupied the West Bank. Read more here. See MIFF's timeline where you can quickly get an overview – click here.
The principle that a new state inherit borders from the last top administrative authority has been used universally after the independence of new states, including states in Asia, Africa, South America and the former Soviet Union. The only exception now appears to be in the creation of Israel. The principle was fitted in November last year after the United States Foreign Minister Mike Pompeo clearly made Israeli settlements in the West Bank (Judea and Samaria) not is in violation of international law.Read more about why Israeli settlements are not in dispute with international law here.
Israel has not occupied Gaza! In 2005, Israel pulled out of Gaza and from four settlements in the West Bank. In 2007, there was a military conflict between the two largest Palestinian movements in Gaza strip. The Islamist terrorist organization Hamas took power from Fatah-loyal forces. As a result of the fighting, the Palestinian Collection Government was dissolved and the Palestinian community was split. The Palestinian authorities in Ramallah have since only been control of the self-governmental areas in the West Bank.
pa In charge of not wanting to cooperate with Israel
some time ago written newspaper Jerusalem Post (read more here) that a NGO claimed that Israel does not adequately help the Palestinians in the fight against Corona. In response, in May 2020, the Israeli Government presented in the Supreme Court, a long list of actions implemented to help Palestinians stop Corona infection. Israel has, among other things, held courses for Palestinian health professionals and laboratory technicians and provided for delivery of Corona tests. Then decided to stop all cooperation with Israel, therefore Corona collaboration also stopped. Since PA is responsible for the Palestinian population living in the areas in which they are responsible, then also assume responsibility for the consequences of stopping cooperation with Israel.
In December, Israel's Health Minister Yuli Edelstein, to the newspaper New York Times that Israel wants to help prevent the corona spread among the Palestinians and that he is not in "doubt that it will happen." On February 19, Infinitum News could tell that Israel will vaccinate 120,000 Palestinians who have work permit in Israel – read more here.
December 2020, wrote Khaled Abu Teamh in Jerusalem Post that: – The Palestinians do not expect Israel selling them the vaccines or that Israel acquires the vaccine on their behalf … The Palestinians will soon receive about four million. Doses of the Russian Corona vaccine. With the help of the World Health Organization (WHO), has managed to secure the vaccine from other sources. Read the article here.
PA already received Sputnik V and AstraZeneca vaccines in February. It is comparable to neighboring countries in the region, including countries with larger Palestinian populations – for example, Lebanon and Jordan who have not implemented vaccination operations and many other poor countries that also participate in the WHO vaccine aid program. On February 1, Infinitum News could also tell that Israel would send 5000 vaccines to Palestinian health professionals – read more here.
pa responsible for vaccine program pursuant to Oslo Agreements
Under Oslo Agreements, the Palestinian authorities (PA) the responsibility for healthcare – also vaccinations for the Palestinians in Judea, Samaria (West Bank) and Gaza. PA has been responsible for about 30 years. Read MIFF articles about the Oslo agreements here. Denmark does not expect Israel to cooperate?
pa corruption and abuse of assistance to the Palestinians
already in 1997 became extensive inner terror and lawlessness under the Palestinian autonomy (Pa) documented by human rights organizations. Read about how Danish assistance to the Palestinians is abused by Pa here.
Dance
K Corona assistance to the Palestinians via the United Nations went to organizations with terrorist connections
May 25, 2020 could Infinitum News tell that more millions of crowns went from the UN to organizations related to terror. The many million kroner in international assistance should help the Palestinians fight Corona collection was coordinated by World Health Organization (WHO) and United Nations Office for The Coordination of Humanitarian Affairs (OCHA). Read more here. Where is the Danish condemnation her?
PA spent $ 1 billion on Terror Reward in 2020!
Denmark is among the countries that annually send more millions of crowns to Pa. The Danes' tax crowns are abused, among other things, to pay high monthly salary to convicted terrorists with Israeli life on conscience. Pa attempted to hide the money transfers by channeling the funds to PLO that are not committed to economic transparency – read the report on this. If you have heard in Danish media?
How many corona vaccines could have purchased for the Palestinians for $ 1 billion?
According to the World Bank's latest report, the Palestinian authorities ( PA) 200 million for their vaccine program – read more here. Therefore, the EU will now give at DKK 150 million – read more here. Pa could start using the Milliard, which last year gave to terrorists who have murdered Israelis. Where is Denmark's demands on that they must stop abuse of Danish assistance for terrorist reward?
Palestinian NGOs accuse Palestinian leaders to skip Corona queue over Palestinian NGO 'has been asked to create a Commission to investigate how the Palestinian Authority (PA) distributes the Corona vaccines.
The call comes after claims that vaccines in Judea and Samaria (West Bank) are distributed "outside the framework of a clear and public plan". PA allegedly begun to vaccinate senior officials, own employees and friends before the elderly and people in risk groups in the population in general.
Many Palestinians complain that the vaccines so far only come a small group for good, those who sit with power and their friends. Several demand a clear and clear priority plan for how the vaccines are distributed. Read more here.
Where are Denmark's demands on that they must prioritize vaccination of older and vulnerable first?
Hamas has in years held Israelis caught
Terrorg group Hamas has, for several years, retained the earthly remains of two Israeli soldiers, killed under the Gaza war in 2014 and also holds two Israelis captured as mean Being alive. Where are the Danish demands on the terrorist group that they must release the Israelis? Since 2001, Palestinian terrorist groups in the Gaza Strip have attacked Israel with thousands of rockets and grenades. Rockets have eventually got longer range and explosive force, and can now hit the entire central Israel. The terrorist organizations have also used attacking tunnels, fire attacks and large-scale infiltration experiments. Where is the Danish condemnation her? Read MIFF's correction of raw anti-Israeli propaganda here.
Israel already vaccinating Palestinians
Israel vaccines Palestinians in East Jerusalem. They are not Israeli citizens, they are inhabitants, according to the Oslo Agreements, Israel's responsibility for their healthcare. Palestinians over the age of 60 or those who have a chronic disorder can be vaccinated in Israeli vaccine clinics close to their home. Israel also plans to vaccinate even more Palestinians in Israeli prisons. Israel's vaccine program, from day, has been running in the country's predominantly Arabic areas. Of concern that the Israeli Arabs would not vaccinate, Prime Minister Benjamin Netanyahu visited several Arab cities to promote vaccination.
Israel does not discriminate in the vaccine program
who are not ethnic or religious discrimination in Israel's vaccine program, on the contrary, the Israeli government encourages all the different minorities – Muslims, grapers, Bedouins, Tjerkes
Sere, Samaritans, Christians and others to be vaccinated.
In addition, it should be emphasized that all Israeli citizens – regardless of gender, ethnicity and religion have equal rights under Israel's Declaration of Independence.