Judge yourself – what do you think? .

– My impression is that the way the Israeli military completed the attacks during the 11 days was incredibly sophisticated, Schmale said about the more than a thousand Israeli air attacks against Hamas' military goals in Gaza.

He later expressed remorse over the opinion, but it did not stop criticism against him. Hamas he mentioned, among other things, "a speech person for Israeli defense". Also Schmales second leader, David de Bold, is declared unwanted.


A Palestinian Help worker recently stated NRK that Israel's attack "was not aimed at hitting civilians". The auxiliary worker received subsequent death threats and NRK had to draw the case – read more here.

Here are some factual information about the Hamas Terror group:

Hamas is among others on the eus terrorist list.

Hamas Charter (Hamas Charter – Read more here, adopted 18 August 1988. "As a Jewish state with a Jewish population, Israel is facing Islam and Muslims," ​​declares Hamas. Their goal is to wipe out Israel and replace the world Only Jewish state with Arabic state number 23 and Muslim state number 58. The ultimate goal is to "lift Allah's banner over all things".

Although Hamas became democratically elected by the Palestinians in Gaza in 2006, the terrorist group according to Mosab, was not as popular as they gave the impression of in their propaganda campaigns.

Hamas won the second and last held Palestinian elections in 2006. Hamas received 44.45 percent of the votes while Fatah received 41.43 percent, but due to the election scheme Sad Hamas back with a pure majority and 74 of 132 mandates in Parliament. In the wake of the election, an intensification of the conflict followed between the two rival parties, which culminated when Hamas took power over the Gaza strip in 2007. Read more about Hamas here.

– The silence among the majority of Gaza's inhabitants is not due to the supports Hamas – they are afraid of Hamas. The inhabitants live in fear. Hamas checks them with the sword. If you are against Hamas they shoot you or hang you right away. You and your family are deadly, explains yousef.

Hamas has as declared goal to wipe out Israel with all means:

Hamas, in section, has attacked several Israeli cities with 2000 rockets every year for 20 years. The repeating rocket attacks against Israel's civilian population have violent consequences of all fronts – not least Israeli children who grow up with the sound of rocket alarms and the fear of dying. Read more here.

Despite massive Israeli air raids against Hamas' military goals in Gaza, Hamas is already rebuilding his massive rocketary, so they are ready again, again and again to attack Israel in the next war. Hamas has reportedly announced Iranian media that they have resumed their rocket production according to the Danish Terror group's recent rocket attacks against Israel ended, where Israel defended himself against more than 4300 rockets that counted down most of Israel for 11 days during May. Read more here.

The top Hamas leaders such as yousef's father have access to the territorial bunkers of the terrorist group, while using Gaza's inhabitants as living shields to win their worldwide propaganda war against Israel.

– Hundreds of children have paid the price. The kind of people (Hamas leaders) should not get away with what they have done. They should not feel comfortable wherever they are hiding. Hamas Hate Israel more than they love their own children, told Yousef to New York Post.

But all it boasts on the left in Denmark.

MIFF has collected some of the worst examples – judge yourself, what do you think?


Margrete Auken (Socialist People's Party ) Retweeted Tweet comparing Israel with Islamic state – Read MIFF article on the matter here.

Radikale Venstre – læs mere på deres hjemmeside HER.

Christian Juhl fra Enhedslisten – læs mere HER.

Uffe Elbæk fra Frie Grønne – læs mere HER.


Pernille Skipper fra Enhedslisten – læs mere HER.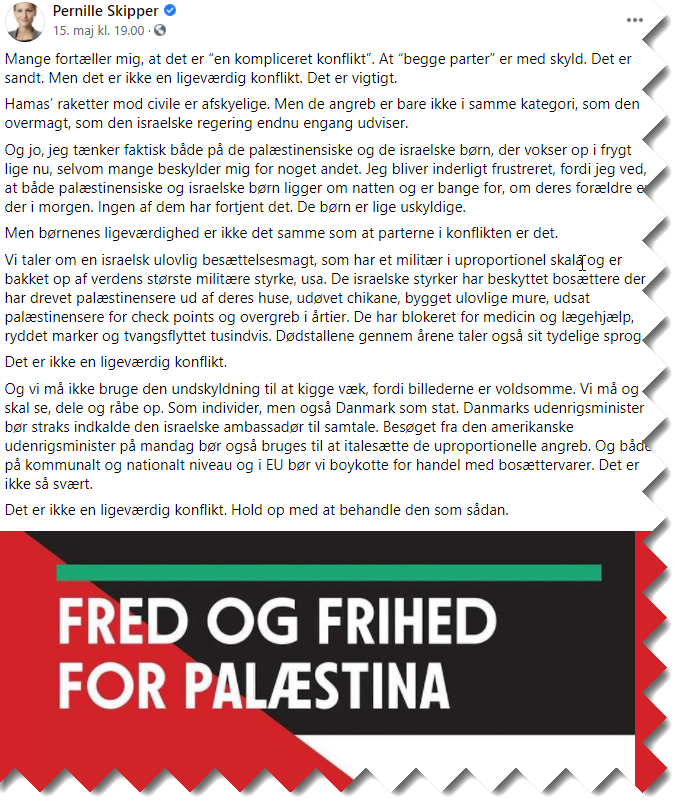 Pernille Skipper fra Enhedslisten – læs mere HER.