Thousands of people demonstrated against anti-Semitism in Berlin on Sunday – four days after a neo-Nazi attacked a synagogue in the East German city of Halle, writes the Times of Israel.
About 10,000 people marched through Berlin, there were also demonstrations in other cities, including Hamburg and Marburg.
Many Germans are in shock over Wednesday's attack in which two people were killed outside the synagogue and in a kebab restaurant. The attack has raised renewed concern about rising right-wing extremism in Germany and the slow response of police.
Stephan Balliet (27), who has confessed to the attack, was heavily armed when he attacked the synagogue in Halle. He failed to enter the synagogue on Yom Kippur – the holiest day of the Jews. Balliet livestreamed his attack. He is charged with two counts of murder and nine counts of attempted murder.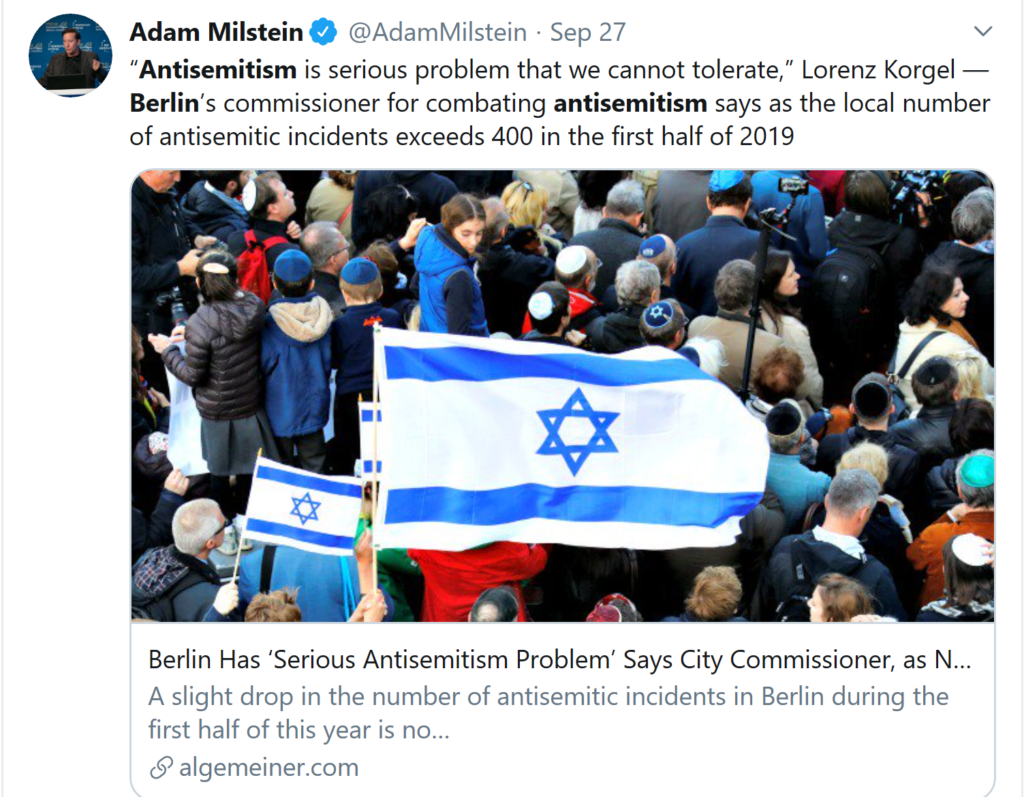 Sunday's demonstration started at Berlin's Bebelplatz, where Nazis burned books written by Jews, Communists and other opponents, after Adolf Hitler took power in 1933.
Protesters waved Israeli flags and banners with slogans such as "No Nazis "and" Right-wing extremist terror threatens our society. "
The demonstration was organized by the civil rights group Unteilbar, under the slogan "We stand united". The demonstration ended at the city's new synagogue with the famous Golden Dome and Star of David.
Friedhelm Schmitt, 52, a neurologist, said he attended the demonstration "because I had to. It's my democratic duty – it's like voting in the election. "
The German prosecutors have stated that Balliet tried to carry out a massacre in the synagogue and had about four kg of explosives in his car.
Fortunately, Balliet did not succeed in entering the synagogue filled with Jews under Yom Kippur. The ballet killed two people near the synagogue, in addition, two are seriously injured. Police have been criticized for only arriving at the synagogue seven minutes after they were called.
Unfortunately, the recent attack in Halle is not a unique case – recently a man tried to attack a synagogue in Berlin while shouting "Allehu Akbar." Jews in Germany have also been warned against wearing kippah.
Fortunately, no one was injured during the attack on the synagogue in Berlin, but Jewish leaders have warned of rising anti-Semitism and German authorities have warned of rising right-wing extremism and Islamism, writes The Wall Street Journal.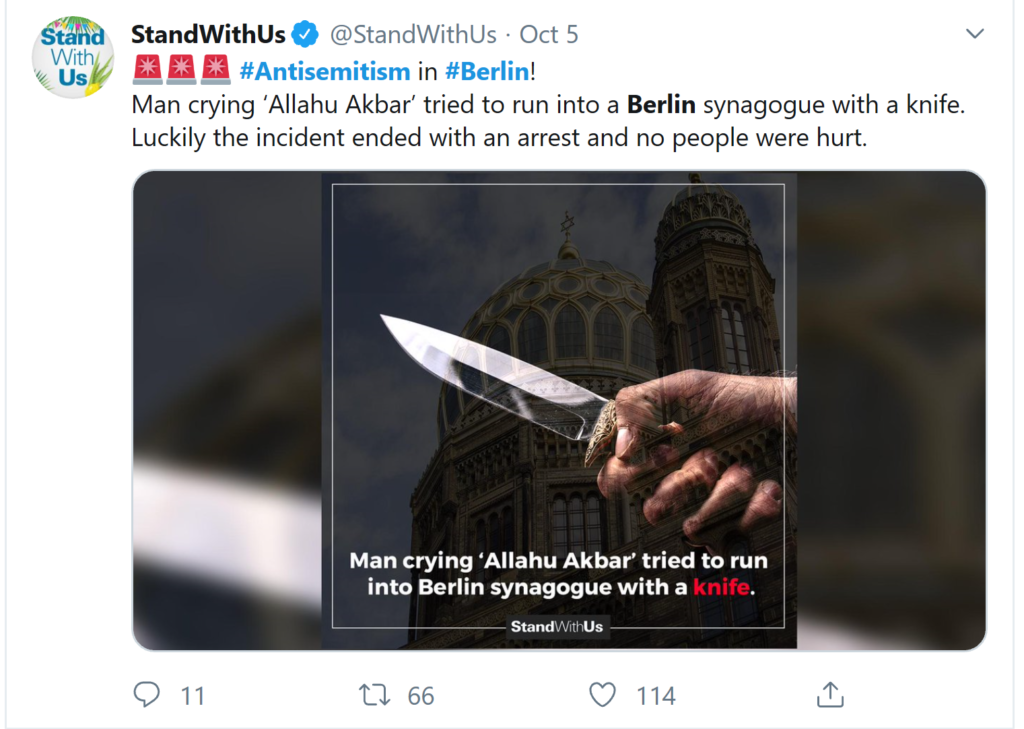 On Friday night, thousands of people gathered in solidarity outside the synagogue in Halle, where the town's small Jewish congregation gathered for Shabbat prayer.
Earlier in the day, thousands of people gathered at Halles Marketplatz, where they blocked the light rail. They waved Israeli flags, anti-fascist flags, and carried banners condemning anti-Semitism.
"We stand between two flames," said the synagogue's gabbai (leader), 59-year-old Josef Levin, who came to Germany from Ukraine in 2004.
"On the one hand, we have the neo-fascists, and on the other hand, we have immigrants from Syria and elsewhere in the Middle East who hate us just as much. And we are squeezed in the middle and burning, "Levin explained to the Times of Israel.
You can read MIFF's articles about the attack in Halle here: