In response to the EU's announcement of continuing to fund Palestinian NGOs, even if they support or have contact with terrorist groups, the Ministry of Strategic Affairs released the report Blood Money on 13 May 2020, writes Tzachi Gabrieli, Director General of the Ministry of Strategic Affairs of the newspaper Israel Hayom.
The report reveals the system used by Palestinian organizations with links to terrorist groups. The report uses the organization Addameer as an example of how the system works. (Read the full report here)
In October 2019, Infinitum wrote News about Addameer after an official Palestinian newspaper compared 17-year-old Rina Shnerb's killer, Samer Arbid, to Jesus.
Arbid was employed and affiliated with two Palestinian organizations that in recent years have received funding from Norwegian taxpayers.
Arbid also worked for Addameer, which according to NGO Monitor received $ 498,700 from Denmark, Sweden, Switzerland and the Netherlands in the period 2014-2017 (see the full overview here).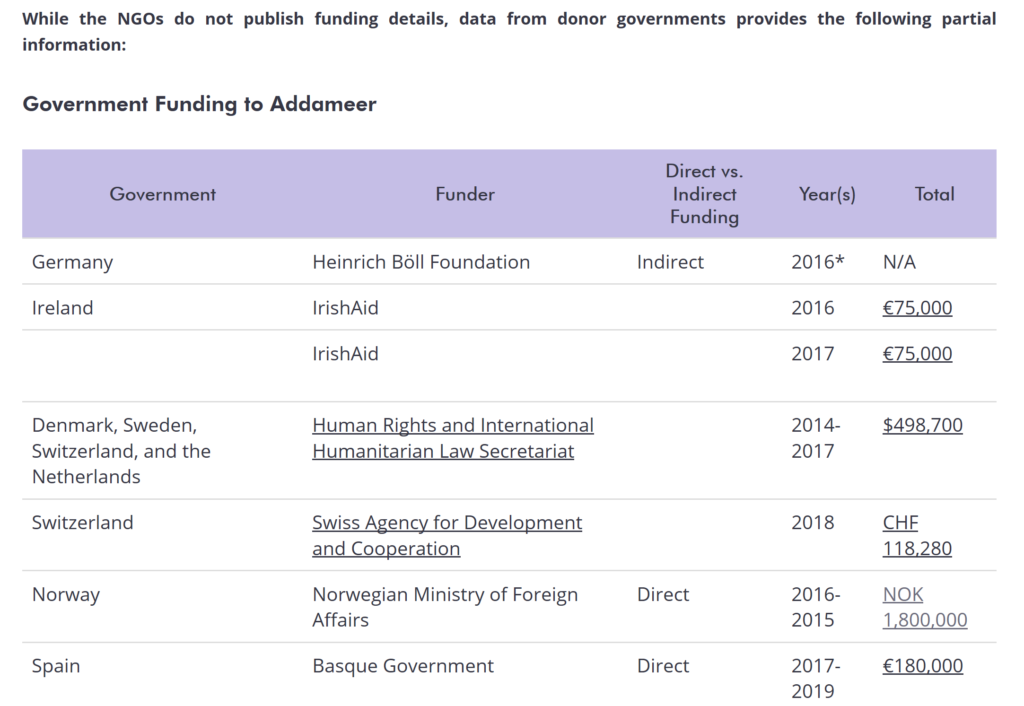 According to Gabrieli, the EU legitimizes the phenomenon of Terrorists in Suits as revealed by the Ministry of Strategic Affairs last year (Read MIFF's article on the report here). It is terrorists who present themselves as human rights activists to raise money. In fact, they are controlled by the Popular Front for the Liberation of Palestine (PFLP) and Hamas.
Contrary to all logic, the EU legitimizes the organizations' double play and delivers terror with credit, Gabrieli writes. Thus, the EU crosses a dangerous line for two reasons:
-Low Palestinian transparency of what the funds are used for. agenda. There is also a call for armed struggle against Israel.
The report shows how the Palestinian NGO Addameer has implemented a terrorist organization's agenda and how it is unhindered funded by EU countries.
Addameer is a good example of the terrorists in suits method. In addition to the suits, the organization works to delegitimize and boycott Israel and to release terrorists from the terrorist organization PFLP.
Over the past few years, the organization has received more than two million euros from European countries and organizations, including the Swiss Ministry of Foreign Affairs.
Samer Arabid left his job as Addameer's accountant in 2017 and then headed a terrorist cell in the terrorist organization PFLP that murdered the 17-year-old Israeli girl, Rina Shnerb last year.
-At a time when European countries should be interested in helping Palestinian organizations fight the Corona, their funds should not be used for the opposite of the purpose for which they were given – death instead of life, Gabrieli concludes .
(Also read MIFF's article on continued EU support for terrorist activities against Israel here).
Write NO in the comments field if you are also against EU financing of terrorism against Israel!
Subscribe to Infinitum News now – help us stand up for Israel and the Jewish people!