The Danish Melodi Grand Prix final was held in Herning on Saturday 23 February. Ca. 30 BDS supporters held outside a demonstration, the purpose of which was to make people "think" that it is "wrong" to hold a Eurovision Song Contest in Tel Aviv – in "criminal" Israel. Israel should not, in their view, be allowed to "art-wash" the horrible things the protesters accuse the country of.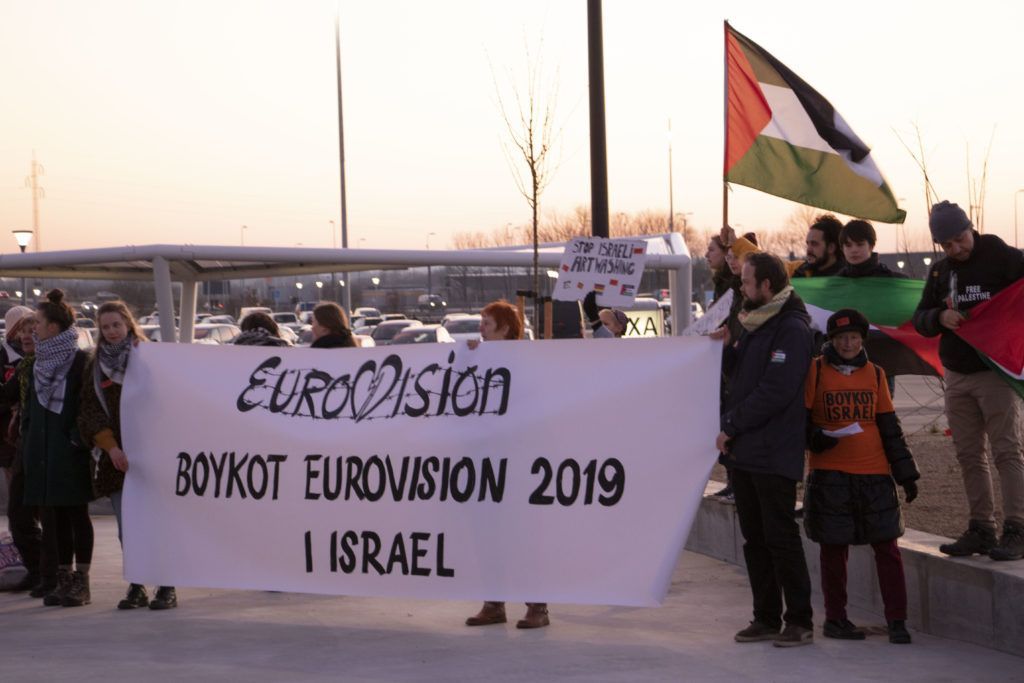 Boycot Eurovision 2019, Boycott Israel (Herning, 2019-02-23 Private photo)
Led by MIFF member and volunteer Jane Normann Hoffmann , MIFF received a total of 42 Israeli friends who, instead of going into the BDS movement's premises, celebrated Israel and wished the MGP winner a Happy New Year. Tel-Aviv.
The results were really heartwarming!
We got to write something about it Saturday night, but we can not help but share more of the magnificent experience with our readers.
---
layout
Jane says: We each got our area we had to stand inside. We walked around a lot in ours. As I saw it, they were standing in front of their banners. There was an invisible line across from them that we had to stay within. And people had to pass us to get to the entrance from the parking lot.
Israel friends at the Danish MGP final 2019-02-23 (private photo)
There was a bit of fencing with the flags (thanks to Max Meyer, chairman of the Danish Zionist Association, DZF , for the clip):
https://www.facebook.com/DanskZionistforbund/videos/608365482925100/
And there was partying!
Max Meyer came all the way from Copenhagen. He brought not only lots of flags, flagpoles, pamphlets, and travel brochures, but also a ghetto blaster with encouraging Israeli music.
Our demonstrators danced both freestyle and hora (below – filmed by Henrik and Ella Chievitz – from the Danish-Israeli Association, DIF Aarhus, among others).
A little serious – Jane Normann Hoffmann talks to Nikolaj Arve, Weekendavisen … (audio)
Audiences heading to MGP gave hugs, took selfies, said thank you and gave "thumbs up"
"Thanks for the material"
"It's good that you're here"
"You have won without a fight"
Jane says: There were some complaints about the sound level from the audience, who sat right inside and had a drink before the show. That was ok. We played very loud. Some spectators came to the window and gave us thumbs up, others wanted selfies with us and the flag. …
Her [Rebecca in the top photo] people would hug and have pictures of. She received so many positive expressions that she can almost fly today. … Some came and gave us two free tickets to tonight's show. They had won them themselves, but thought we deserved them. We have given them to the two youngest, Simeon and Rebecca. ( Simeon Kristensen is mostly behind a camera) .
As we were unpacking, an official, in a yellow vest, came over to us, praising us for our way of being; that we were happy and dancing to good music. Unlike the others, as he said.
What do the Israel friends in our demo group say?
Jane wrote: Our participants were happy ….. think it made sense – They were happy to meet "in person" and experience that you could do something together.
Here are some examples
"One of the best experiences tonight was the great sympathy people showed for Israel – several came by and said that they actually do not know much about the conflict – but if they had to choose a side from the outside what they have experienced today – where on the one hand we were peaceful with music and dance while the others shouted hateful slogans – then they were in no doubt about who they support – and there is ISRAEL – this made us incredibly happy " – Ella and Henrik Chievitz
"I think people in general have got a positive impression of the friends of Israel. Meet people with kindness and plant a positive impression in their subconscious. The Palestinian friends have, as usual, emerged as a so-called hate group " – Anders Viftrup
Readers on MIFF.DK and Facebook have written …
A selection of the short comments:
Congratulations on a good and sober event. The sour, offensive types down at the other end could learn something from that.
Super, well done MIFF and Co.
… good initiative with travel brochures and nice to Danish and Israeli flag together.
So beautiful and good. THANK YOU to you who were there.
And then a couple of the long ones:
Dear Autonomous. Thank you for reminding me that this year's International Grand Prix will take place in Israel. In fact, I had completely forgotten until you made me aware of it yesterday with your demonstration. I'm ready to go to Tel Aviv and watch the grand finale, and hope to see you down there, in the Middle East's only democratic and well-functioning state ? I am also very much looking forward to you arranging demonstrations against the World Cup in Qatar, where the stadiums are being built by slave workers. Or against Formula 1 in the Bahrain country with the most political prisoners per capita. ( Lars Aslan Rasmussen , MF (Social Democrats))
I sit and get tears in my eyes, for several reasons, … that joy, smiles and reconciliation are traced. No anger. For that is how we fight for Israel, and for Israel to be treated on an equal footing with all other nations. How beautiful it is. ( Ole Groth-Andersen, who played a major role in the preparations for the demo)
---
Follow-up – i.a. …
Jane wrote i.a. in thank you letter to the protesters: We are strong together in our love for justice, for Israel and the Jewish people. I hope we can use that strength in the future. Therefore, I would ask you to tell me if there is a situation we need to reunite.
Rika Greenberg and I have written to those who have written positive comments on Facebook: All positive comments on Facebook about our work to support Israel are of great importance to us in Med Israel for Peace (MIFF) – thank you for having expressed your support. … We will be happy if you want to attend some of our future events and you are always very welcome to contact us. If you are not already, we also hope you will become a member of MIFF in Denmark so that together we can support Israel.
What about you, dear reader?
Ekstrabladet wrote on 22 February "Revolutionary socialists will stop Melodi Grand Prix. Protesters from Copenhagen, Odense and Aarhus will try to slow down Danish Eurovision participation in Israel." The article includes a small survey:
Should Denmark participate in Eurovision in Israel? The answers:
75% Yes
21% No.
4% Do not know
It should be 100% saying yes. So there's a little far left.
PS – Many Danish friends of Israel are both members of MIFF and at least one other association, such as DZF and DIF (mentioned above) …
---
See also "Here they must blame themselves in front of the whole of Denmark on Saturday" (2019-02-18), which provides background on the boycott demonstration.