For decades, Palestinian children have been abused as child soldiers by Palestinian terrorist groups. The use of child soldiers was an important part of Yasser Arafat's military strategy during the Second Intifada. But the abuse continues today and the foundation is being laid as early as kindergarten age. "Palestinian children in their teens take part in street fights against Israeli soldiers," reported VG from Bethlehem in the West Bank in 2017. Those who do not protest against this abuse of children have little moral weight when they later want Israel to release children who have participated. in the armed struggle, Infinitum News wrote at the time.
In November 2019, Palestinian radio broadcast a feature in which children were encouraged to martyrdom. They are "Islam's ammunition and weapons to liberate and conquer Jerusalem". The message was also shared on Facebook by the Fatah movement, which controls the Palestinian Authority.
MIFF has joined an international campaign to rescue Palestinian child soldiers. On the action website, you can sign letters to members of the European Parliament and to prominent spokespersons for child welfare in the United States (such as Michelle Omba, Angelina Jolie and Madonna). You can also find many photos, movies and other material that you can share on social media.
The Palestinian Authority and Hamas cannot be absolved of their responsibility to use children in the fight against Israel – be it as scouts and couriers or stone-throwers, gunmen or suicide bombers. Much of the incitement of Palestinian minor children to violence is funded by Palestinian authorities or other public institutions and media. Danish and Norwegian authorities and organizations are therefore directly and indirectly involved in this. "Children have the right to be protected from being harmed and abused, physically and mentally," the UN Convention on the Protection of Children states. It must therefore be a primary task for parents and a community to prevent children from participating in riots and confrontations that can be potentially violent. International law prohibits non-state armed groups from recruiting or using children under the age of 18. It criminalizes a number of the militant Palestinian groups on a daily basis. Those who have not seen pictures and films from the militant children's camps in the Palestinian community should take a look at YouTube.
Give your help to Infinitum News in promoting the international protest campaign against Palestinian child soldiers. Start by sharing the image below on social media and feel free to write a reader post for your local newspaper!
Use #kidsnotsoldiers when sharing on social media!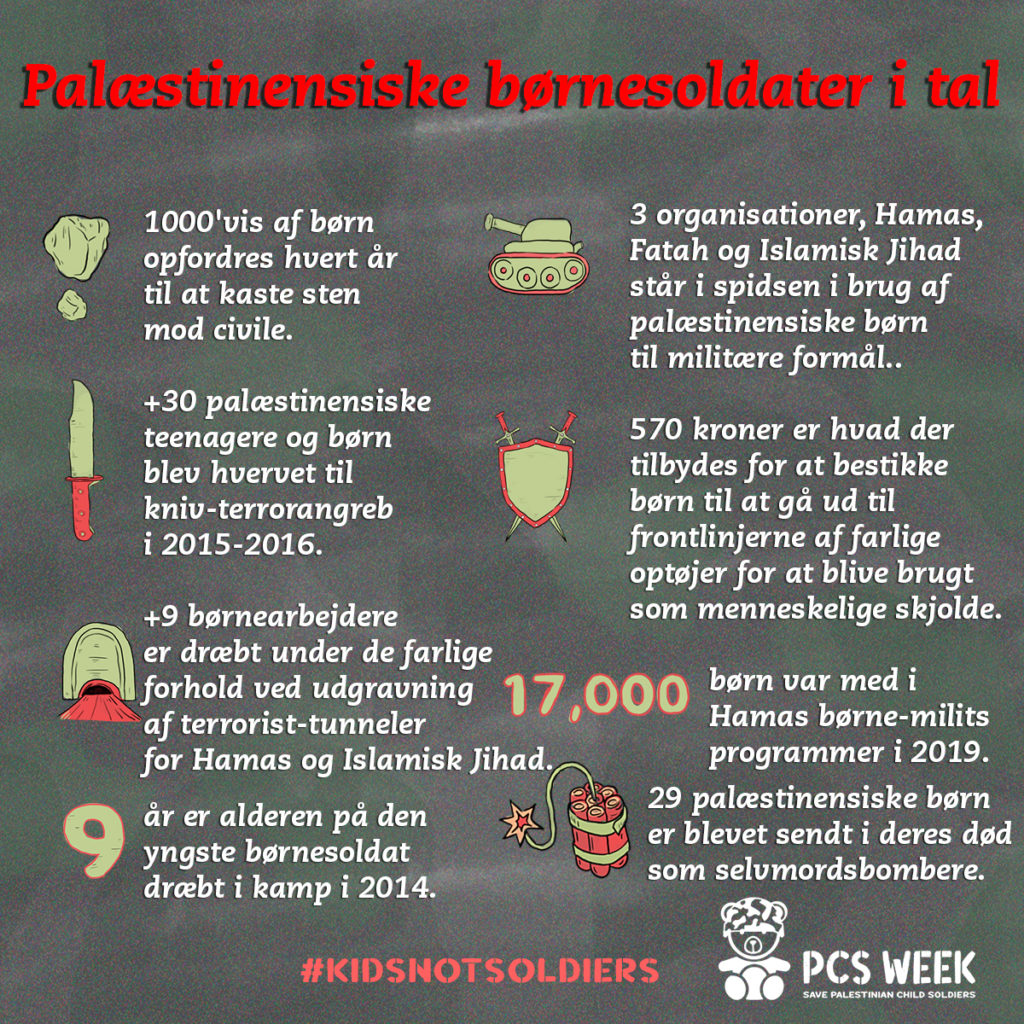 Why do Palestinian parents allow their own children to confront soldiers? The question she asked in the social studies class in middle school was the first step on the road to becoming a Zionist.