The Prime Minister of the Palestinian Authority (PA), Muhammad Shtayyeh, once again repeated the PA's false statement that Jesus was Palestinian, writes Palestinian Media Watch, which for several years has been following closely what is happening in the Palestinian media.
MIFF has previously pointed out that as part of its propaganda to legitimize Palestinian terrorist attacks against Israelis, the PA compares Palestinian terrorists to Israeli life on the conscience with Jesus – read more HERE.
Also read MIFF's article; Anne Hegelund: – If Jesus had lived today, he would probably have ended his days in an Israeli prison. Even in Denmark, there are those who jump on PA's propaganda.
During his speech, the Palestinian Prime Minister said that Jesus was "the first Palestinian self-sacrificing warrior" and that Jesus had taught the Palestinians what "martyrdom" is:
PA Prime Minister Shtayyeh: "Our Lord Jesus, peace be upon him – the first Palestinian self-sacrificing warrior who taught us what martyrdom is and paid for his mission life. "

[Official PA Daily Al-Hayat Al-Jadida, December 28, 2020]
The PA uses the term "self-sacrificing warrior" (Fida'i) about terrorists who have fought and murdered Israelis since 1965, including the most heinous killers. For example, in 2018, Palestinian terrorist Ashraf Na'alwa murdered his two Israeli colleagues, Kim Levengrond-Yehezkel, a young infant mother, and Ziv Hajbi, a young father of three. Fatah repeatedly glorified the killer with postings on their official Facebook page. In the post, Fatah wrote, among other things: "The legend, the heroic self-sacrificing warrior (Fida'i) Ashraf Na'alwa" [Official Fatah Facebook page, December 13, 2018]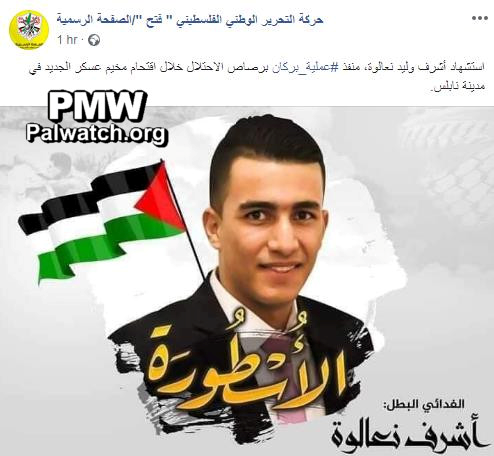 Jesus did not preach violence, so the comparison of Palestinian murderers and suicide bombers with Israeli lives on the conscience is completely absurd. The PA's presentation of Jesus as one who taught Palestinians what "martyrdom" is is a serious insult to Christians. PA promotes martyrdom as something to be strived for to be rewarded in paradise – for example, with the belief that the "martyr" will marry 72 virgins.
PMW has for several years revealed that PA, which each year receives several million. Danish tax crowns imprint the ideal of becoming a "martyr" and sacrificing the life of "Palestine" in the minds of the Palestinian people
.
Read MIFF's articles on how Danish aid to the Palestinians is being abused by PA HERE.
Also read MIFF's article; Palestinian Prime Minister refuses to bow to Norwegian pressure. Mohammad Shtayyeh will continue to pay rewards to terrorists and hate education in schools, even though Norway has cut 30 million. NOK in their assistance to the PA.
Jesus is described as a Jew in the New Testament and he lived among Jews in Judea. Therefore, it is an insult to Christianity to describe Jesus as being a Palestinian. It is especially in connection with Christmas that PA leaders repeatedly convey their false narrative that Jesus was "Palestinians".
Official PA TV host: "We wish the Palestinian people, wherever they are, a happy holiday, health and all the best. May we and you make the coming years a message of love, hope and joy. A message of determination and patience that characterized the first Palestinian, Jesus, peace be upon him. "

[Official PA TV, Palestine this morning, December 24, 2020]

PA Prime Minister Shtayyeh:" The birthday of our Lord Jesus… falls at the same time with the anniversary of the outbreak of the Palestinian revolution (ie its first terrorist attack on Israel called the "launch" of Fatah), for which thousands of martyrs have paid with their lives. "
[Official PA Daily Al-Hayat Al-Jadida , December 28, 2020]
​​ Do you also think it's time to stop the abuse of Danish aid to the Palestinians then you belong in MIFF
Click HERE to become a member.
Click HERE to give Infinitum News a gift.
Share MIFF's articles and help us recruit more members.
Thank you for your support!