The Palestinian Media Watch (PMW) has been keeping an eye on the Palestinian media for several years. During the Corona crisis, the Palestinian Authority (PA) has come up with several false Corona accusations against Israel to cover up their inability to live up to their responsibilities and make sure to provide Corona vaccines to the Palestinians, writes PMW – read more HERE.

Israel not invited to PA meetings to obtain Corona vaccinations in 2020-2021:
November 2020: PA meets with WHO, UNICEF, UNRWA "to ensure Palestine is provided with an appropriate number of Corona vaccines" (Israel is not invited)
December 2020: PA orders "four million doses of the Russian vaccine… expected to be delivered in Palestine before the end of the year" (no request for help from Israel)
January 2021: PA states: "Four vaccine manufacturers [will supply] 70% of the Palestinian people… WHO will provide 20% "(no need for Israeli help)
January 2021: PA states:" Two million doses were ordered [from AstraZeneca] … We received an official response from the pharmaceutical company… [Also] the Russian pharmaceutical company Sputnik, and vaccines have been ordered… We do not wait… we act… "(no need for Israeli help)
Despite PA's claim to have obtained Corona vaccines, they blame Israel
January 2021: PA Foreign Ministry stated that it demands that Israel "supply the Palestinian people with Corona vaccines… [Israel] exposes the Palestinian people to racist discrimination and denies them the right to health care… it is medical apartheid against the Palestinian people. "
The Palestinian Media Watch (PMW) has repeatedly revealed that the PA often blames Israel for its own failures. The PA's behavior after they did not arrange for rapid ordering of Corona vaccines is no exception.For two months, the PA has assured their people that the PA Ministry of Health is in control of the situation and has ordered vaccines that are on their way without Israel's help. The PA does not seem to be able to solve the task satisfactorily and therefore they return to their standard excuse by blaming Israel instead of taking responsibility for providing health care to the Palestinians as they undertook under the Oslo Accords 30 years ago . Read more here.As early as 21 November 2020, PA Health Minister Mai Alkaila met with WHO, UNICEF, UNRWA, the PA Finance Ministry, the PA Information Ministry and the Epidemiological Committee. Alkaila announced that the PA would: "submit the necessary documents to the WHO and the Global Alliance for Vaccines and Immunization (GAVI) to ensure that Palestine is provided with an appropriate number of Corona vaccines." [Wafa, official PA news agency (English), November 21, 2020] Israel was not even part of the meeting.After two months, the PA's foreign ministry has changed tactics and launched another demonization campaign against Israel, accusing Israel of racism and "medical apartheid" because Palestinians are not being vaccinated by Israel. Read more about PAs Corona-hetz HERE in English incl. quotes from Palestinian ministers.

The claim of "medical apartheid" also used in Denmark

"Medical apartheid" wrote MEP Margrete Auken (SF) on Facebook, Instagram and Twitter: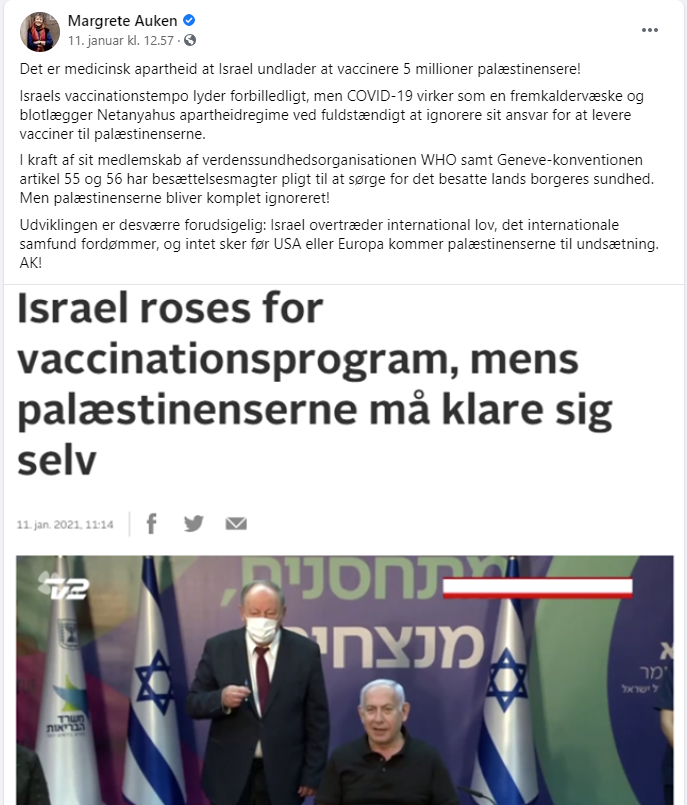 "Forbrydelse" skrev medlem af Folketinget, Christian Juhl (EL) på Facebook:

Amnesty Internationals Corona-hetz mod Israel
Den 7. januar skrev MIFF: 
Danske og internationale medier spreder falske nyheder om at Israel forhindrer palæstinenserne i at blive vaccineret mod Corona inkl. eksempler fra danske medier – læs mere HER.
Internationale NGO'er som bryster sig af at stå op menneskerettigheder har også gjort deres til at sprede Corona-løgne rettet mod Israel.
Et eksempel er Amnesty International, 6. januar skrev de blandt andet på deres hjemmeside (læs hele teksten HER på engelsk):

Israels vaccine-program fremhæver den institutionaliserede diskrimination som definerer regeringens politik over for palæstinenserne. Israel fejrer deres verdensrekord i udrulning af Corona-vaccinen. Mio. af palæstinensere, der bor under israelsk kontrol på Vestbredden og Gaza-striben, modtager ingen vaccine eller må vente meget længere – det illustrerer at israelske liv er vigtigere end palæstinensiske liv.

Israelske myndigheder skal sikre, at vacciner leveres ligeligt til de palæstinensere, der lever under deres kontrol, for at opfylde deres forpligtelser i henhold til international lov. De skal også sikre jævn indgang af vacciner og andet medicinsk udstyr til OPT, foretage de nødvendige logistiske arrangementer for at sikre sikkerheden og effektiviteten af ​​vaccinerne, udtaler Saleh Higazi, vicedirektør for Mellemøsten og Nordafrika hos Amnesty International.

De palæstinensiske myndigheder (PA) på Vestbredden og de facto Hamas-administrationen i Gaza-striben kan ikke selv finansiere vacciner eller deres fordeling blandt den palæstinensiske befolkning, de er afhængige af globale samarbejdsmekanismer som COVAX, som ikke er begyndt at distribuere vacciner endnu. Israel skal yde fuld økonomisk støtte for at sikre, at vaccinen straks distribueres til den palæstinensiske befolkning uden forskelsbehandling. Israel skal også ophæve blokaden af Gazastriben for at muliggøre, så sundhedssystemet kan fungerer korrekt i lyset af Corona-krisen. Gazas sundhedssystem har været under besættelse i 50 år og under blokade i mere end et årti – de kan ikke imødekomme befolkningens behov. Corona-krisen og manglende adgang til vacciner har forstærket forskelsbehandlingen og uligheden som den palæstinensiske befolkning udsættes for.

Den 22. december udsendte 10 menneskerettigheds- og sundhedsorganisationer en erklæring, der opfordrede Israel til at sikre, at deres vaccinationsprogram inkluderer palæstinenserne, der lever under israelsk besættelse.

De palæstinensiske myndigheder (PA) håber at få vacciner til palæstinensere på Vestbredden og Gazastriben via WHO.

Danish Palestinian Friendship Association (DPV) also jumped on the Corona hetzen against Israel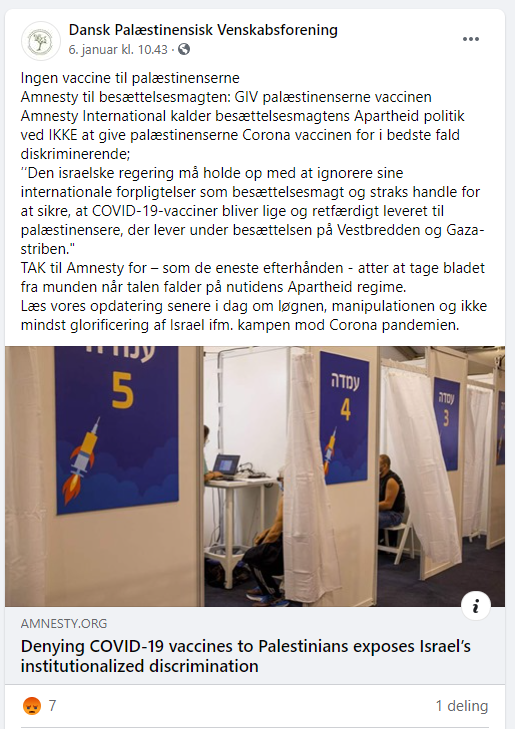 Berlingske Tidende already involved in false Corona accusations against Israel before New Year
On December 29, 2020, Berlingske Tidende claimed that Palestinian prisoners in Israeli prisons would not be offered Corona vaccine – read HERE. After the Israeli embassy in Denmark drew attention to the factual errors in the article, Berlingske chose to correct it – see the Israeli ambassador's Facebook post below: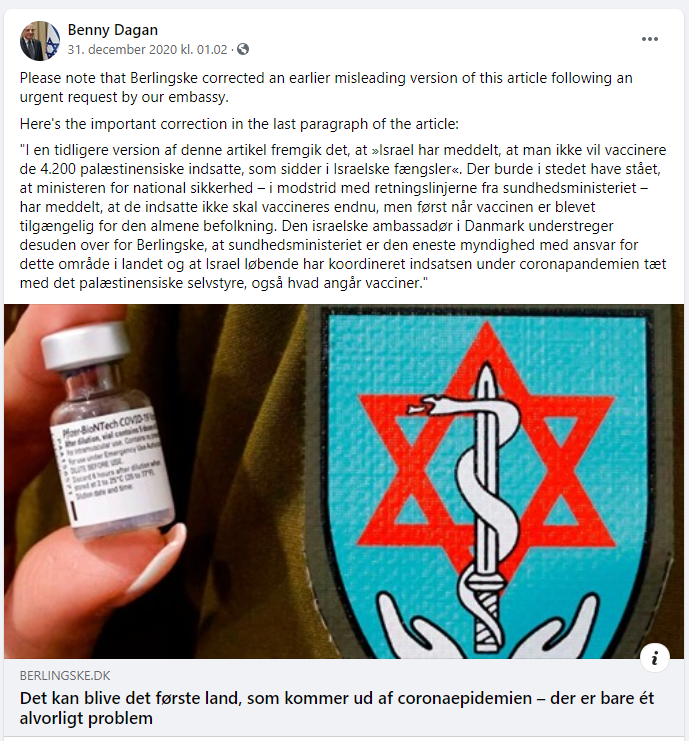 On January 11, Infinitum News wrote, among other things:
There has hardly been a period in recent times where Israel has been as widely covered in the Danish media as now. Under normal circumstances, the Danish media focus on the Palestinians 'side of the conflict and the Danes therefore often do not get access to read about the Israelis' side. For example, Danish media do not think it is relevant to inform the Danes that terrorist groups such as Hamas, which has had an iron grip on the Gaza Strip since 2007, are deliberately trying to annihilate Israel by firing thousands of rockets into Israeli cities, read more HERE. The Danish media also do not think it is relevant to inform Danes that Hamas prioritises spending DKK million. of dollars on producing advanced missiles and building offensive tunnels into Israel rather than ensuring that the Palestinian people have their need for medical assistance covered. Danish media do not mention that Qatar sends several million every month. dollars to Hamas – why are there no Danish journalists investigating what the money goes to? Read more about Qatar HERE.

On January 10, MIFF wrote: Berlingske Tidende and TV2 jump on international Corona lie against Israel
Today, Berlingske Tidende published a long article about Israel's race against the Corona infection and a world record in vaccinating their inhabitants against the dangerous virus. At the time of writing, about 2 million. Israelis have been vaccinated, in comparison, around 100,000 Danes have been vaccinated. Read also: Everyone in Israel must be vaccinated within three months.

Excerpt from the article in Berlingske:
Berlingske Tidende :
On the other hand, Israel has been criticized by human rights organizations for not expanding its vaccination campaign to include cover the Palestinians living under Israeli control, writes the Financial Times. Israeli settlers living in the West Bank are vaccinated.

The Geneva Convention obliges in principle an occupying power to provide health supplies to the local population and to prevent infectious diseases, and according to the Israeli embassy in Copenhagen, there is also close coordination with the Palestinian Authority.

However, this has not meant that Israel has distributed its doses yet.

Israeli Health Minister Yuli Edelstein said last week that the country may have a interest in curbing the virus on the Palestinian side of the border, but that Israel is first and foremost committed to its own people.

Palestinians hope to buy two million doses of the Oxford-AstraZeneca vaccine, which is easier to handle as it does not need to be frozen at extreme temperatures. And otherwise, the Palestinians are dependent on the World Health Organization WHO's COVAX initiative, which will provide free or cheap vaccines to the world's poorest countries. But there may be moon until the first doses arrive.

Until then, the virus will continue to spread in Gaza and the West Bank. Thousands of Palestinians travel to Israel and the Jewish settlements every day to work, not least in the construction sector.

Source: Berlingske Tidende – click HERE
TV2:
The country has been praised internationally for its effective vaccination program, but is now facing harsh criticism for not distribute vaccines to the millions of Palestinians living in the West Bank and Gaza Strip.

– As an occupying power, I believe it is Israel's responsibility to secure vaccinations for the Palestinian people, says Ali Abed Rabbo, Chief for the Preventive Department of the Palestinian Ministry of Health, to Sky News.

A number of human rights groups also criticize Israel for cutting off the Palestinian people from vaccines – including Amnesty International.

– Israel's vaccination program underlines government discrimination against Palestinians. There is hardly a better example of how Israeli lives are valued higher than Palestinians, says Saleh Higazi, the organization's regional director.

Conversely, Israel believes that the Palestinian Authority is responsible for Palestinian health, including: vaccinations.

The Palestinians must therefore rely on vaccines through the organization COVAX, which works to ensure a fair distribution of vaccines worldwide so that the citizens of poor countries can also be vaccinated.
< However, COVAX has only committed to providing vaccines to 20 percent of the Palestinian population, which is far from enough to achieve the desired herd immunity.

Ali Abed Rabbo tells The Guardian that he hopes that the first Palestinians will be vaccinated sometime in February.

By contrast, Israel may have vaccinated all adult Israelis by the end of March, according to Prime Minister Benjamin Netanyahu.

Source e: TV2 – click HERE.
The truth is that PA does NOT want Israel's help
Note that both Berlingske and TV2 link to international sources to substantiate the false allegations against Israel , but that does not change the fact that their facts are lies. TV2 mentions, among other things, Amnesty International, which on January 6 did their part to spread Corona lies directed at Israel. Read MIFF's article about the case HERE incl. FB post from the Danish Palestinian Friendship Association (DPV). Read also: Palestinians again refuse to accept Corona aid from the Emirates.

The Guardian did the same a few days ago – read more HERE. First, far down in the newspaper article, it read that: "Despite the delay, [the Palestinian] authorities (PA) have not asked for help from Israel. "Coordination between the two sides was halted last year after Palestinian President [Mahmoud Abbas] suspended security cooperation for several months." Read MIFF's article about it HERE.

The truth is that PA would NOT talk to Israel when they ordered Corona vaccines, PA would also NOT coordinate the complex rollout of the vaccine program with Israel. In addition, it should be emphasized that these are not occupied territories .

Israel inherited the borders of the mandate under international law
The universal rule for determining borders of new states, uti possdetis juris dictates that they are established with the administrative boundaries of the former administrative authority. Prior to Israel, the Mandate of Palestine was created by the Nations League and administered by Britain. As the only state to come out of the mandate in 1948, international law dictates that Israel inherited the administrative boundaries of the mandate. This principle states that the territory in question has been under Israeli sovereignty since the independence of the state, it also applied during Jordan's occupation of the territory between 1948 and 1967. While the territory is politically disputed, the legal principle is completely clear with regard to the West Bank (Judea and Samaria) . Israel has NOT occupied the West Bank. Read more HERE.
The principle that a new state inherits borders from the last supreme ad administrative authority, has been used universally after the independence of new states, including states in Asia, Africa, South America and the former Soviet Union. The only exception now seems to be with regard to the creation of Israel. The principle was established last November after US Secretary of State Mike Pompeo made it clear that Israeli settlements in the West Bank (Judea and Samaria) do not violate international law. Read MIFF's article USA: – Israeli settlements do not violate international law.

PA is responsible for not cooperating with Israel
, that an NGO claimed that Israel was not helping the Palestinians adequately in the fight against Corona. In response, in May 2020, the Israeli government presented to the Supreme Court a long list of measures implemented to help the Palestinians stop the Corona infection. Israel has, among other things, held courses for Palestinian health personnel and laboratory technicians and provided Corona tests. Following this, the PA decided to stop all cooperation with Israel, which is why the Corona cooperation also stopped. Since the PA is responsible for the Palestinian people living in the areas for which it is responsible, the PA must also take responsibility for the consequences of stopping cooperation with Israel.

In December, Israeli Health Minister Yuli Edelstein told the New New newspaper York Times that Israel wants to help prevent the spread of corona among the Palestinians and that he is not in "doubt that it will happen."

A few weeks ago, Khaled Abu Toameh wrote in the Jerusalem Post among other things that: – The Palestinians do not expect Israel to sell them the vaccines or that Israel buys the vaccine on their behalf… the Palestinians will soon receive around four million. doses of the Russian Corona vaccine. The PA, with the help of the World Health Organization (WHO), has managed to secure the vaccine from other sources.

PA expects to receive the Sputnik V and AstraZeneca vaccines by February. It can be compared to neighboring countries in the region, including countries with larger Palestinian populations such as Lebanon and Jordan, which have not conducted vaccination operations, and many other poor countries that also participate in the WHO vaccine assistance program. In addition, the Jerusalem Post wrote on January 6 that Israel has transferred some doses of the vaccines to PA – read more HERE.
PA responsible for vaccine program under Oslo Accords
Under the Oslo Accords, the Palestinian Authority (PA) is responsible for healthcare – including vaccinations for Palestinians in Judea, Samaria (West Bank) and Gaza. The PA has had that responsibility for about 30 years, something their journalists who like to quote the terrorist group Hamas' Ministry of Health (Hamas has had control of Gaza since 2007) for false allegations about Israel's damage also know. Read MIFF's articles about the Oslo agreements HERE.
Israel already vaccinates Palestinians
Israel vaccinates Palestinians in East Jerusalem. They are not Israeli citizens, they are citizens, according to the Oslo Accords, Israel is responsible for their health services. Palestinians over the age of 60 or those with a chronic illness can be vaccinated in Israeli vaccine clinics close to their homes. Israel also plans to vaccinate even more Palestinians incarcerated in Israeli prisons. From day one, Israel's vaccine program has been running in the country's predominantly Arab areas. Concerned that Israeli Arabs would not be vaccinated, Prime Minister Benjamin Netanyahu has visited several Arab cities to promote vaccination.
Israel does not discriminate in the vaccine program
There is NO ethnic or religious discrimination in Israel's vaccine program, on the contrary, the Israeli government encourages all the country's different minorities – Muslims, Druze, Bedouins, Cherkess , Samaritans, Christians and others to be vaccinated. In addition, it must be emphasized that ALL Israeli citizens – regardless of gender, ethnicity and religion – have equal rights under Israel's Declaration of Independence.
False accusations against Israel attract attention
D one gives more clicks on articles with heartbreaking headlines – whether the news is true or not does not matter. For several years, Infinitum News has pointed out that the media, politicians, organizations and others do not tell what is really happening in Israel. Often they also use very dubious sources, as a reader it is therefore impossible to distinguish between truth and falsehood. Anti-Israel attitudes often characterize the media and the reporting from Israel is unfortunately then. That's why Infinitum News puts a lot of effort into going after the media – the media, politicians and others who speak out about Israel should be impartial and report the truth.