How to wrote Chairman of the party New Civil March 4 on Facebook, after she had participated in a radio program along with former chairman of the party unit list, Pernille skipper:
In the radio program, Pernille skipper (EL), it is a lie to reward terrorists with Israeli life on the conscience!
Here are the faces of some of the Israeli terrorize victims Whose murderers month after month, year after year receive large amounts in reward for murdering Israeli children, women and men. No Danish media is interested in the Israeli victims who are murdered because they are Jews living in their own country – Israel.
such murdered 17-year-old Hakim Awad and 19-year-old Amjad Awad family Fogel 11 March 2011:
17-year-old Hakim Awad and 19-year-old Amjad Awad, are they Two Palestinian terrorists like brutally murdered 5 members of the Fogel family. The terrorists sneaked on March 11, 2011 into Fogels home in the city of Itamar, southeast of Nablus. First, terrorists 11-year-old Yoav and 4-year Elad while they were sleeping. Then the parents, Ehud and Ruth, who fought against the terrorists. Then the terrorists left the home, but Amjad decided to return to look for weapons. When he returned to the home, he heard Hadas in 3 months cry and also murdered her. Hakim and Amjad Awad then returned to their village. They were caught and arrested a month later by Israel's secret security service, IDF and police forces. Hakim Awad was sentenced to five lifetime years + 50 years in prison, Amjad Awad was sentenced to five lifetime judgments + seven years in prison.
Fogels Murderers have now served ten years in Israeli prison, it triggers a salary increase of 50 percent from the Palestinian authorities (PA), from 8,000 kroner a month to 12,000 kroner a month – you help pay Terrorists' terrorist reward via Danish assistance to PA as annually is DKK 200 million.
As part of his passport terrorism policy, they have paid the Fogel family killers a fixed monthly salary from the day when they were arrested. Up to day, pa paid over 700,000 kroner for each killer – total about 1.5 million crowns to murder two adults and three children!
According to Passport law from 2004 on prisoners and released prisoners and passport implementing rules rise the salary, as paid to all terrorist catchers in line with their prison, see the Deputy Table here: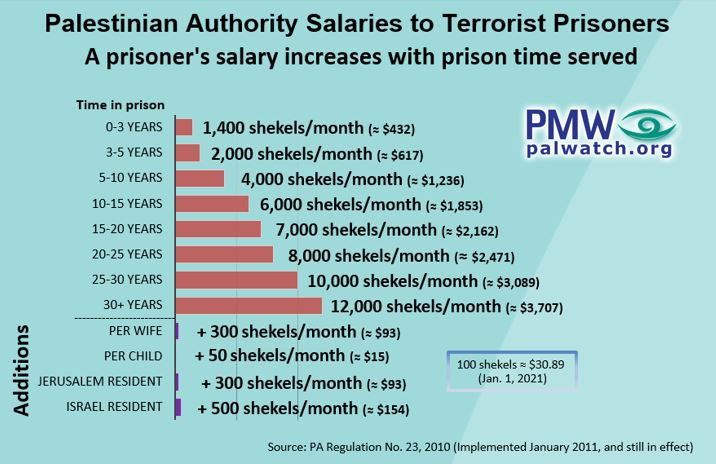 Already a few days after the murder of Fogel, revealed Palestinian Media Watch (PMW), Passport Special Pay for Slay (murder of pay) system – read more here.
a month after the terrorist attack against the family Fogel, showed a study done together by Harry S. Truman Research Institute for The Advancement of Peace at the Hebrew University of Jerusalem and the Palestinian Center for Policy and Examination Research in Ramallah, that while two Thirds of respondents were against attack, supported one third attack.
On February 22, Infinitum News could tell about PMW's passport attempts to hide that in 2020 had given at least $ 1 billion in terrorist reward to terrorists with Israeli lives on conscience
.
Read more here – incl.
The numbers like PA don't want you to see!
In addition, pa also paid hundreds of million kroner in reward to wounded terrorists and the families of dead terrorists.
Read more about how to abuse Danish assistance here.