MIFF's pressure on politicians in Norway has borne fruit – now we need to get the Danish politicians on board
MIFF's long-term information work has finally borne fruit in Norway after several years – now we need to get the Danish politicians on the field. We will discuss this in more detail later in the text.

In recent years, Infinitum News has made clear demands on the government and the political parties in the Norwegian Storting.
Norway must pressure PA to dismantle their reward system for convicted terrorists
Norway must pressure PA to stop indoctrination to hate and homage to civilian killings in schools and on official media
>
Constructive dialogue »with the Palestinians has not resulted in a positive change – on the contrary. The Palestinians must experience economic pressure, Infinitum News has emphasized in a number of articles, media plays and meetings with Norwegian politicians.

In December 2019, we had the first breakthrough when the governing parties (then also with the FrP party in government) and the Center Party threatened to stop aid to remove jihad and hatred from the Palestinian school books. The government followed up by withholding more than half of the planned support for the Palestinian education system in 2020. According to the information Infinitum News has, a parliamentary majority tonight (December 9, 2020) will refer to last year's remark and ask the Norwegian Ministry of Foreign Affairs for to report back to the Norwegian Parliament when there is a report on the Palestinian textbooks from a German institute.

In the agreement on the state budget for 2021 between the Norwegian government and FrP, Infinitum News has achieved another major breakthrough. The parties have agreed to reduce aid to the Palestinian Authority (PA) by 30 million. DKK 10 million and aid to the Palestinian territories. kroner. It is a historic cut, and Infinitum News is proud to have contributed to its adoption through our long-term information work.

In addition to the political cut, aid was generally downgraded in the government's initial budget due to reduced revenues in 2020 in gross domestic product. In total, it is expected that aid from Norway to the Palestinians will be reduced by well over ten percent in 2021. In 2019, bilateral Norwegian aid to «Palestine» was DKK 616 million. kroner, according to Norad.

"We must set a moral standard, and we are doing so now by cutting aid and making it clear what is ok and what is not ok," parliamentary representative Himanshu Gulati (FRP) said in an video interview with Infinitum News on 9 December. / p>

In Denmark, on the other hand, the situation unfortunately looks completely different …

Several million Danish tax dollars continue to flow into PA's pockets

Since Infinitum News came to Denmark in 2018, we have repeatedly pointed out that Danish aid – paid for by the Danish taxpayers to the Palestinian Authority (PA) and NGOs, does not go to the purposes they should, but instead is abused to promote terror against Israelis, poison the brains of Palestinian children via jihad school curriculum and pay salaries to convicted terrorists with multiple lives on the conscience. Read MIFF's articles on how Danish aid to the Palestinians is abused HERE. Read MIFF's articles on Palestinian jihad textbooks HERE – incl. . several EU parliamentarians' demands for an end to payments.
Here is one among many absurd examples of how Danish aid is misused to finance terrorist attacks against Israelis:


In the period 2016-2020, Danish taxpayers contributed 70 million . kroner – despite Danish regulation against support for the terrorist group PFLP or NGOs with terrorist connections.
NGO Monitor's reports prove what Danish tax dollars go to
NGO Monitor is a globally recognized research institute that promotes democratic values ​​and good governance. NGO Monitor works to ensure that policy makers and civil society operate in accordance with the principles of accountability, transparency and universal human rights. NGO Monitor publishes fact-based research and independent analysis of non-governmental organizations (NGOs), their sponsors and other stakeholders, primarily in the context of the Arab-Israeli conflict. NGO Monitor is a project of the Institute for NGO Research, a recognized organization with special advisory status at the UN Economic and Social Council (since 2013). NGO Monitor provides information and analysis, promotes accountability and supports discussion of reports and activities in NGOs that claim to promote human rights and humanitarian agendas. Read more about NGO Monitor HERE.

EU Commissioner: – terrorist financing will not be tolerated
In May 2020, EU Commissioner for Neighborhood and Enlargement, Olivér Várhelyi instructed the leaders of the EU Delegations to Israel and the West Bank / Gaza to "conduct a thorough investigation" into allegations of , that some EU funds go to NGOs with relations to terrorist organizations, Várhelyi stressed that the financing of terrorist organizations "is not tolerated." Read more about it HERE.
The Dutch government has suspended co-operation with UWAC due to terrorist links
In August, the Dutch government decided to suspend its co-operation with the Union of Agricultural Work Committees (UWAC) after it emerged that aid funds were has been used to pay salaries to two of the terrorists behind a terrorist attack carried out by a terrorist cell in the terrorist group PFLP in August 2019. In the terrorist attack, 17-year-old Rina Shnerb was killed and her brother and father were injured. Read MIFF's articles about the terrorist attack HERE The Dutch government also announced that it would conduct an external inquiry into the UAWC's links with the terrorist group PFLP.
UAWC helped finance terrorist attack on 17-year-old Rina Shnerb and her family in 2019
NGO Monitor's investigations show that Denmark is directly involved in providing funding to a UN program that provides money to UAWC . Danish assistance to UAWC takes place via the UN's Food and Agriculture Organization (FAO). NGO Monitor's investigations also show that the FAO's primary partner is the UAWC. All the above information is publicly available – therefore the Ministry of Foreign Affairs (Danida) should know that Danish aid ends up directly in the pockets of Rina Shnerb's murderers.
Danish regulation does not work – Danish aid continues to flow into terrorists' pockets
NGO Monitor's investigations have shown that Danish aid – despite Danish regulation against the payment of aid to the terrorist group PFLP or NGOs with connections to the PFLP, continues to flow in the pockets of the UAWC which just has connections with the PFLP. Read MIFF's articles the terrorist group PFLP HERE.
MIFF has repeatedly pointed out that Rina's killers have Danish aid money in their pockets
After the PFLP terrorist attack on 17-year-old Rina and her family, an official Palestinian newspaper compared her killer, Samer Arbid with Jesus – read about it HERE. Arbid was employed and affiliated with two Palestinian organizations, which in recent years have received funding from the Danish and Norwegian taxpayers – read about it HERE.
MIFF called on the Danish government to demand that the Palestinians condemn the terrorist attack on Rina – read MIFF's article HERE. The Danish government was silent.

According to information on Danida's website, the Danish government gave DKK 70 million. kroner to FAO in the period 2016-2020 – see more HERE.

Read NGO Monitor's report on the payment of international assistance to UAWC HERE.

Screenshot from Danida's (Ministry of Foreign Affairs) website: <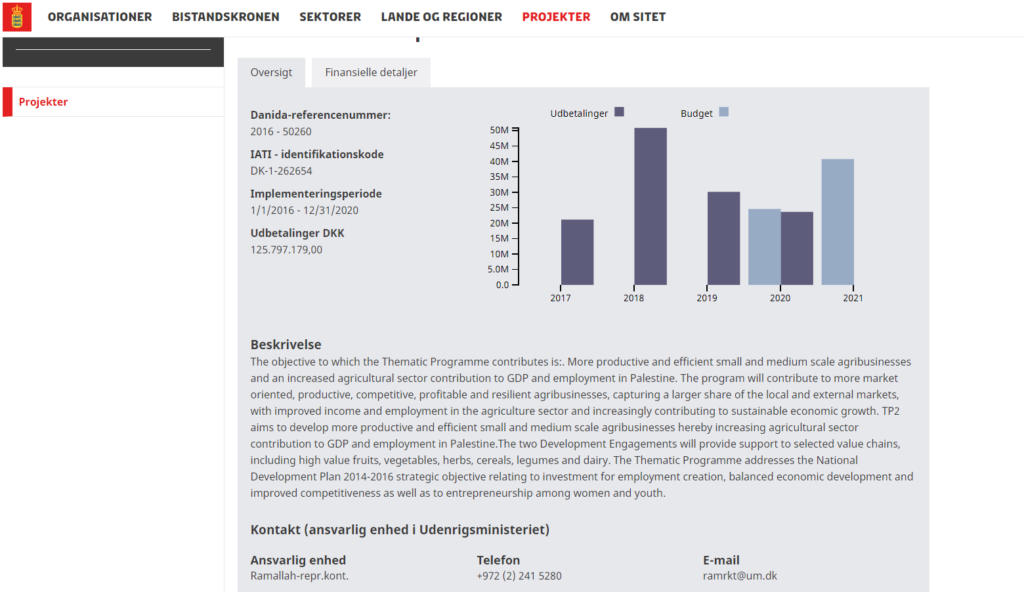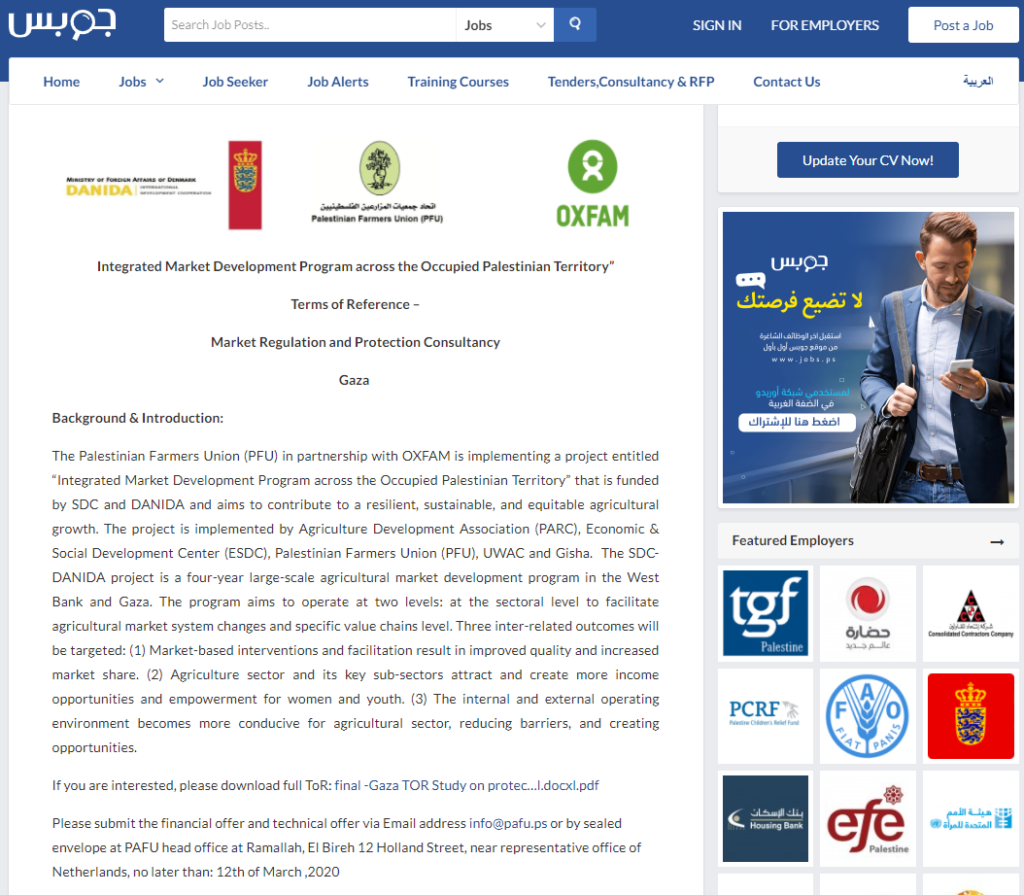 Skærmdump ovenfor er fra hjemmesiden:Integrated Market Development Program across the Occupied Palestinian Territory. Ifølge projektbeskrivelsen bliver "projektet implementeret af Agriculture Development Association (PARC), Economic Social Development Center (ESDC), Palestinian Farmers Union (PFU),Union of Agricultural Work Committees (UWAC)og Gisha."
Ansat hosUWAC og Addameer har Rinas liv på samvittigheden
Samer Arbid blev ansat og tilknyttet to palæstinensiske organisationersom i flere år har modtaget midler fra danske og norske skatteydere.

En af de organisationer Arbid har arbejdet for hedderAddameer. IfølgeNGO Monitormodtog Addameer i perioden 2014-2017, 498,700 dollars fra Danmark, Sverige, Schweitz og Holland (se hele oversigtenHER).
Addameer har tætte forbindelser tilPopular Front for the Liberation of Palestine (PFLP)som står på terrorlisten hos EU, USA, Canada og Israel. PFLP stod bag terrorangrebet mod Rina. PFLP har også stået bag flykapringer, selvmordsangreb, terrorangreb mod civile og anden terroraktivitet.